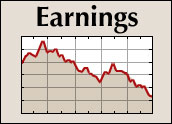 Yahoo disappointed shareholders with its second quarter earnings report, posting declining profits that missed Wall Street's expectations. Its quarterly net income fell to US$131 million, or 9 cents per share, from $161 million, or 11 cents per share, a year ago. Excluding certain charges, Yahoo realized earnings of $139 million, or 10 cents per share, falling one cent short of analyst expectations.
Quarterly revenue rose 6 percent to $1.8 billion from $1.7 billion a year ago. Sales registered an 8 percent increase, to $1.35 billion in the quarter from $1.24 billion last year. Analysts had expected $1.37 billion.
The one bright spot was its guidance, which Yahoo left unchanged for the rest of 2008, though it narrowed its target to between $7.35 billion and $7.8 billion.
Yahoo claimed that its performance in Q2 was strong — all things considered.
'Difficult Economic Environment'
"Despite a difficult economic environment, we posted solid results in line with the ranges we indicated in April," said CFO Blake Jorgensen. "GAAP revenue was $1.8 billion, with operating cash flow on a normalized basis coming in at $449 million. Our diverse advertiser base and compelling value proposition for our customers were key factors behind Yahoo's strong second quarter performance."
Yahoo also had to contend with an unwelcome Microsoft acquisition proposal and — after that deal was spurned — a hostile investor. The long saga came to an abrupt halt this week when Carl Icahn, who had been agitating for replacement of the company's entire board of directors, agreed to end his proxy fight in exchange for three seats on that board.
Executives at Yahoo made as little mention as possible of the war over Yahoo's future, preferring instead to talk of the company's direction going forward. CEO Jerry Yang said that Yahoo is now seeing validation that it is pursuing the right strategy to take advantage of growth trends on the Internet.
New search offerings, such as SearchMonkey and BOSS, and the firm's ad deal with Google were among the initiatives he cited.
Sanguine Reaction
The market did not punish Yahoo to the extent that it battered Apple, which turned in stellar earnings but issued guidance that was lower than analyst expectations. However, Yahoo shares were down 4.72 percent by market close on Wednesday.
That the boom wasn't lowered any further was no doubt partly due to the fact that expectations had already been dampened. There's typically a discrepancy between how the Street treats current performance and how it reacts to expectations of future performance.
"Basically, for a stock price, it is better to miss performance expectations but promise to deliver on what analysts are expecting for the future," Peter Cohan, a principal with Peter S. Cohan & Associates, told the E-Commerce Times.
The other option — handing in a passing grade but forecasting weaker performance — is almost always punished in the markets, he said.
That said, Cohan is "surprised that analysts and the market are giving credence to Yahoo's guidance. And Yahoo is setting itself up for trouble if it misses the numbers next quarter."