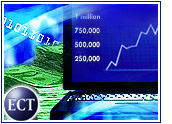 Yahoo! reported a net loss of US$53.6 million in its first quarter, slightly beating analysts' expectations, and earned higher-than-expected revenue of $192.7 million.
"I would characterize this quarter as one thatdemonstrates strong performance and outstanding growthin a time of economic turbulence," Yahoo!chairman and CEO Terry Semel said in a conference call.
Better Days Ahead
The company also raised its projections forthe second quarter. That forecast may give a much-needed boostto the Internet sector because Yahoo! is generallyconsidered a bellwether for Web firms.
Yahoo! said it expects revenue for the second quarter will come in atbetween $205 million and $225 million, while earningswill fall in the $23 million to $33 million range.
According to company chief financial officer Susan Decker, theupward revision is due in large part to the acquisition of onlinecareer company HotJobs, which Yahoo! expects will contribute $20 million to $25 million in revenue duringthe second quarter.
Another contributor to the boosted forecast is an extension through the second quarter of a paid search deal with Overture.
Semel said Yahoo's paid search feature is performing"very well," and he noted that HotJobs will be fully integratedinto Yahoo! by this fall.
"All of those factors contributed to [the] upgrade inguidance," Decker said in a conference call, thoughshe added that Yahoo! expects the "current cyclicalconditions" in the industry to continue.
Profitable Operations
Despite reporting a net loss for the quarter, Yahoo'soperations were in the black. Without a $64 millionaccounting charge — which reduced earnings by 11 centsper share but, according to Decker, did not affectYahoo's cash position or operations — the company sawoperating earnings of $24.4 million, or 2 cents pershare. Earnings in the first quarter of 2001 totaled $900,000.
Analysts had been expecting operating earnings of 2cents per share on revenue of $175 million, accordingto First Call/Thomson Financial.
Advertising Weakness
One way in which Yahoo! maximizedrevenue during the first quarter was by shifting away from itsreliance on Internet advertising, which continues to be soft.
Marketing and advertising still made up the lion'sshare of total revenue for the quarter at $121million, but transactions and listings accounted for37 percent of Yahoo's total revenues, a significantincrease from earlier periods.
Yahoo! made $16.7 million from transactionsand $55 million from fees and listings.
"The sluggish state of the ad market has contributedto this shift in mix," Decker said, adding that Yahoo's top 200 ad clients still generate 50 percent of the company's total revenue.
Transaction revenue was driven by Yahoo's increasedfocus on e-commerce. The companyprocessed $776 million in transactions, and thethree-day "Biggest Sale in Internet History," whichYahoo! launched in March, increased transactions by up to500 percent for some Yahoo! merchants.
'Not Out of the Woods'
Morningstar analyst George Nichols told the E-CommerceTimes that Yahoo's results were positive overall, butalso a "mixed bag."
Nichols said he is "pleasantly surprised" by how wellYahoo! is increasing its revenue from transactions,fees and listing. "This helps Yahoo! partiallyinsulate itself from the highly cyclical online admarket," he noted.
But he added that the company should not rest easyuntil all the pieces of the puzzle are back in place.
"Online advertising has not bounced back yet (contraryto the belief held by many investors), merelystabilized. Yahoo! is not out of the woods until theonline ad market regains steam," Nichols said.