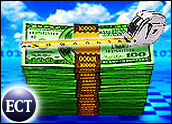 Yahoo! (Nasdaq: YHOO) is reporting that its sales rose 25 percent during a three-day discount promotion last week.
According to the portal giant, its partner retailers saw an average jump in gross sales of about 70 percent.
But GartnerG2 research director David Schehr told the E-Commerce Times that the true impact of the promotion remains unclear.
"It's tough to judge how big a bump it is when all they'll talk about is percentages," he said. "Without knowing the numbers underneath, it's impossible to say it was a success or not."
Numbers Show Mixed Bag
According to data provided to the E-Commerce Times by Nielsen//NetRatings (Nasdaq: NTRT), the Yahoo sale had a mixed impact on traffic to the portal.
The overall Yahoo domain drew a about 34.7 million unique at-home surfers for the week ended March 17th, compared with just over 35 million the week before. Yahoo! did better with at-work surfers, drawing a unique audience of 20.2 million people during the sale week, compared with 19.6 million the week before.
NetRatings also found little change in other categories, including average time spent on the Yahoo! domain and the number of pages viewed during that time.
Percentage Problem
Schehr questioned whether the sale will have lasting value in terms of driving traffic to Yahoo! and its third-party merchants.
He noted that online consumer behavior tends to focus more on shopping at specific destination sites rather than on heavy use of portals or shopping aggregators.
Furthermore, he said, online consumers are not as focused on price as they once were. "Everything we see indicates that convenience is becoming more important and price less so," Schehr said.
Merchants Happy
But Yahoo! said the sale, which ran from March 13th through March 15th and was promoted across the company's network of sites, directly boosted sales of many third-party merchants.
For instance, the portal said, its travel section saw a 20 percent sales increase. Airlines that sell tickets through the site saw sales double, and the number of vacation packages sold rose 162 percent compared with the same period a week earlier.
Travelocity.com vice president Jim Marsicano said in a statement that his company is "extremely pleased by the surge in ticket sales and traffic" the sale generated.
And according to Yahoo, Hewlett-Packard's (NYSE: HWP) consumer e-commerce site saw its revenue from Yahoo! increase 380 percent during the sale.
Close to Home
Yahoo said the sale also boosted its own paid services, which are a key component of the portal's long-range plan to reduce reliance on advertising revenue. Yahoo's premium mail service saw registrations more than double, while activity on the company's PayDirect payment system rose 50 percent.
The Internet increasingly has been the home of highly touted sales events. In addition to Yahoo's recent effort, several airlines and travel sites have used the Web to conduct surprise one-day sales.
For example, Travelocity said a single-day sale it held last August in conjunction with Yahoo! boosted sales by 70 percent.