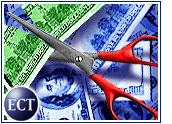 Yahoo! (Nasdaq: YHOO) on Wednesday unveiled a three-dayfire sale called The Biggest Sale inInternet History, consisting of nearly 1,000 salesand promotional offers.
Through March 15th, online shoppers will have accessto discounted merchandise from Yahoo! merchantpartners, including Sears (NYSE: S),Travelocity (Nasdaq: TVLY) and Hewlett-Packard(NYSE: HWP), as well as from Yahoo's premium services,such as Yahoo! Finance, Yahoo! Mail and Yahoo!Personals.
"This could be Yahoo's effort to float the idea ofaggregating discounts," Forrester Research analystJames Crawford told the E-Commerce Times. "Unlike shopping bot sites,which depend on advertising for revenue, Yahoo! has asound revenue model [based on] deals with their ownmerchants."
Looks Familiar
While Yahoo's sale is a limited-time promotion, itapproximates the sales model championed byshopping bot companies like DealTime.com and BizRate.com.
But Crawford said the sale might not help Yahoo! draw big spenders over the long haul.
"The quality of the customer that would be attractedto [Yahoo's sale] is in question," said Crawford. "Inthe lowest-price [shopping arena], there's not muchroom for multiple players."
Indeed, the overall value of e-commerce portalshas long been debated among analysts.
"I'm not sold on the value of commerce portals,"GartnerG2 research director David Schehr told theE-Commerce Times. "People tend to destination shop andgo directly to [e-tail sites and] stores."
That said, Yahoo! enabled more than US$5.4 billion inworldwide e-commerce transactions on its platform in2001.
Sale Searching
The Web site for Yahoo's sale presents categorizedlists of merchant links without many searchcapabilities. This could present usability challengesfor some shoppers, Crawford said.
"It is [not clear how to] search for goods by productname," he said. "It will come down to the luck ofreaching people already looking for these goods."
Special Categories
Among other promotions, Yahoo! will offer freeuse of its PayDirect online payment service, 25percent off tax returns filed before April 1st at itsFinance Tax Center, and 50 percent off 25 MB ofe-mail storage.
In addition to its own for-pay services, the company will push its partner retailers' goods.
For example, Sears is offering zero percent financingon Kenmore appliances, Brooks Brothers is givingYahoo! shoppers a 15 percent discount on all of its merchandise,and Travelocity is pitching Delta fares starting at $178.
Steady as She Goes
Yahoo's sale announcement coincided with preliminaryreports that the United States is beginning to recover fromeconomic recession.
Though recovery periods often spawn spending surgesfueled by pent-up consumer demand, Yahoo! is unlikelyto benefit from this kind of phenomenon, according to analysts.
"Retailers encouraged spending and survived therecession by offering [widespread] discounts," saidCrawford. "This will make pent-up demand less than itmight have been after previous recessions."
Sunnyvale, California-based Yahoo! said it willpromote the sale heavily across its own network andthrough a radio and print advertising campaign.
Part of the company's advertising push will includea one-day, offline "red tagging" blitz inAustin and Houston, Texas. Both cities are large markets in terms ofonline shopping and Internet connection penetration.