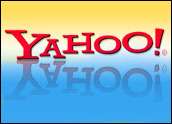 Ever get the feeling that somebody is watching over your shoulder while you browse the Web?
Yahoo's new SmartAds program promises to bring to your monitor display ads based on your behavior, location and demographics.
The new platform is being touted by Yahoo as a way to give advertisers "the ability to deliver customized marketing messages to consumers, and still engage very large audiences with their brand." To some people browsing the Web, it might feel like a ghost in the machine.
The personalized, on-the-fly targeting of advertising is the Holy Grail of Internet marketers. Search-based ads, such as those served up by Google's AdSense program, present come-ons that are based on keywords people enter while searching the Web. Yahoo's SmartAds system is designed to act similarly, but it will serve display ads founded on Yahoo's knowledge of its users interests, locale and other information, said the company.
Get Relevant
The system will present ads to people accessing Yahoo-branded products and services, an audience that exceeds 500 million, according to the search engine. SmartAds will compile and present display ads that are relevant to the subject matter being viewed by a consumer, and the ads will have the ability to show localized information, such as the addresses of stores or dealerships and current pricing. "This provides a relevant experience to the user and allows the marketer to reach a user who is likely to become a customer," said Yahoo.
In an example offered by the company, a person looking at hybrid cars on Yahoo Autos, and who chose San Francisco as his home in Yahoo Weather, will be presented ads for hybrids from San Francisco area dealerships. The pricing and vehicle availability will be up-to-the-minute accurate, Yahoo said, since SmartAds derives inventory and pricing data directly from the advertisers' databases.
Targeting is one thing, but Yahoo said the SmartAds platform will also help eliminate the biggest roadblocks to display ads on the Web: the need to scale and change in real time. Yahoo said the system will allow advertisers and agencies to "design a single set of individual creative components, provide Yahoo with that artwork and a feed to their entire database of offers," and then sit back while the technology cranks out hundreds or thousands of "unique ad combinations based on those components."
Yahoo has applied for a patent for SmartAds, the company said.
A Marketing Mixer
Yahoo hasn't revealed too many details about how the system will work, noted Kevin Lee, a veteran Internet marketer who cofounded Did-it Search Marketing. Nevertheless, he said, it seems to hold promise.
"The thing I like most about the new technology is that it improves the relevance of the ads that consumers see by combining ad elements together based on what is best targeted toward each specific consumer," Lee told E-Commerce Times.
Tests of the system showed SmartAds resulted in click-through rates that were two or three times higher than those produced by non-customized display ads using the same targeting and placement, according to Yahoo.
Beyond Branding
The customization by Yahoo of display ads for Web sites might help the company compete for ad revenue with Google, which leads the search advertising segment. Most Web site display ads have not been personalized and, therefore, are more along the lines of brand awareness campaigns.
SmartAds is a "breakthrough marriage of brand and direct marketing that advertisers have been waiting for," said Digitas and Publicis Groupe Digital Chairman David Kenny. The platform will be of particular benefit to companies that have many offers to present to many differing audiences, he said.
The system could bring some much-needed ingenuity to marketing departments, added Lee.
"I hope that it breaks the online advertising world out of thinking about all consumers as the same," he said. "Marketers generally don't create more than just a couple of creative options for their advertising."