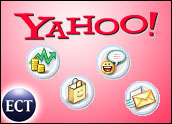 With the dust still settling from the abrupt departure of CEO Terry Semel, Yahoo said Sunday it would revamp its advertising sales unit, merging its search and display operations into a single team.
The company announced the changes along with news of the departure of its longtime advertising display honcho Wenda Harris Millard, who is leaving the company to take over media sales at Martha Stewart Living Omnimedia (MSLO).
Millard is credited with boosting Yahoo as a choice for traditional marketers to extend branding efforts onto the Web. However, display advertising is not growing at nearly the same rate as search advertising spending and that market, where Google is the clear leader, is one that Yahoo shareholders want to see the company attack more aggressively. In fact, Yahoo recently warned that softness in display ads would weigh on its second-quarter results.
A Larger Effort
Yahoo has appointed David Karnstedt, a six-year veteran of the paid search business and formerly senior vice president of the search sales business, to oversee the unified group, with the new title of head of North American sales. Karnstedt will report to Gregory Coleman, Yahoo's executive vice president of global sales.
The move is the first major change under the company's new leadership. After Semel departed, cofounder Jerry Yang took the CEO job, with former CFO Susan Decker now serving as president.
The changes are part of a larger effort to better align the company to meet advertisers' needs, Decker said.
Integrating the search teams "will allow us to better serve all of our advertisers' marketing objectives ranging from brand awareness to direct response," she noted. "This is one of many important steps we're taking to reinvigorate our display business, further build on our industry-leading position in advertising, and drive thought leadership in the online advertising marketplace."
Bundling for Growth
The unified division will be able to customize programs for advertisers that include direct-response ads such as click-through links posted along search results as well as more brand-building efforts such as sponsorship of pages, display advertising and video advertising, Decker said.
"The future of advertising isn't about choosing between search and display, but about leveraging the breadth of advertising products to more effectively reach your customers with the right message," said Coleman. The unit would be able to deliver a more holistic approach to ad sales, Karnstedt said.
Yahoo cited a 2006 study it commissioned from research firm comScore, which found that when twinned with display advertising, search ads became more effective at driving purchases.
Yahoo investors seemed to like the move, with the company's stock rising 1.3 percent in late morning trading Monday to US$27.72. MSLO shareholders, meanwhile, appeared excited about the hiring of Millard to oversee ad sales, with MSLO shares rising more than 3 percent to $17.94.
The portal hinted that more changes were coming, saying that further announcements about the structure of the organization and leadership positions would be forthcoming.
Brain Drain Ahead?
Though it appeared Millard's departure was mutually agreeable to both sides, Yahoo can't afford to risk a brain-drain situation in which key people leave amid the turmoil at the portal, said Enderle Group Principal Analyst Rob Enderle.
"You worry about who leaves in the wake of a departure of someone like Semel," he told the E-Commerce Times. Yang is expected to move quickly to keep the company's top talent and recruit more engineers to the portal by emphasizing its history of technological excellence, a label that Google successfully stole in recent years, Enderle noted.
"Yang coming on board is aimed at least in part at employees and at getting them fired up again," he added.
Troubles for the Internet portal continue to mount following Semel's departure; rumors continue to swirl that Yahoo may be sold. Likely buyers include Microsoft, Viacom, News Corp. and Comcast, according to a recent research note by Jefferies & Co. analyst Youssef Squali.
"We find Yahoo to be exceedingly attractive for a media or technology player looking to establish leadership online," Squali said.
Looking to Panama
Microsoft has held extensive talks with Yahoo, and News Corp. has reportedly offered to turn over control of MySpace in exchange for an ownership stake in Yahoo.
For now, the merged ad units may be a positive development, though Yahoo remains in transition with many observers still waiting for signs that its long-anticipated Panama search advertising platform had made a difference in the search business.
Decker has pegged the third quarter of this year as the time when Panama will show dividends in terms of better monetization of Yahoo's massive user base, said Sterling Market Intelligence Principal Analyst Greg Sterling.
"The system will have to prove its value then, or else more significant changes could follow," Sterling told the E-Commerce Times.