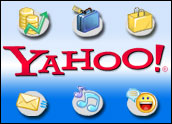 Terry Semel resigned from his CEO post at Yahoo late Monday, stepping aside to let cofounder Jerry Yang take the helm as the portal looks to keep shareholders happy, regain its early dot-com glory and better compete with rival Google.
Semel arrived at the Internet company in 2001 with high hopes that his Hollywood background — he had been an executive at Warner Bros. — would help transform Yahoo, which many saw poised for long-term success as the rise of broadband made the Web a destination for entertainment.
Along the way, however, Google's rapid rise to dominance in the search and online advertising segments has Yahoo relegated to second banana in the search advertising niche, a problem exacerbated over the past year as Google shares rose to record highs above US$500 and Yahoo stock languished by comparison.
Yang, who cofounded the company a dozen years ago, will take the CEO seat, while former CFO Susan Decker, long seen as a fast-rising star within the company and a likely successor to Semel one day, will take the position of president.
Together they will try to spirit Yahoo out of its recent funk.
Perfect Partners?
"We believe there is no better person in the world to run Yahoo now than our visionary cofounder," said board member Ed Kozel. In particular, Yang would focus on reinvigorating Yahoo's culture and would have the "perfect partner" in Decker, Kozel noted.
"We are confident we have the right team in place to realize the enormous opportunities ahead," he added.
The surprise resignation of Semel — who will remain on the company's board and serve as non-executive chairman — came less than a week after large numbers of shareholders supported challenges to him in the form of executive compensation reforms at Yahoo's annual meeting. Semel and other officers were re-elected with 66 percent of the shareholder vote, compared to 99 percent just a year ago, when Yahoo stock was riding high on optimism that the portal would capture a sizable share of the growing online ad market.
Yahoo investors initially cheered the executive change, driving the company's share up nearly 8 percent in after-hours trading Monday. In early trading Tuesday, the stock was down about 1 percent to $27.82. The sag may have been tied to Decker's comments on a conference call in which she said Yahoo would likely post second-quarter results in the middle or the lower part of its earlier announced range.
Turnaround Stories
Semel is widely credited with helping Yahoo recover from the darkest days of the dot-com collapse. By many measures, Yahoo grew rapidly under his stewardship, with revenues rising nearly nine-fold from $717 million in 2001 to $6.4 billion last year. The company's market capitalization grew by $30 billion over the same time and Yahoo's audience reach grew from 170 million users — largely in the U.S. — to a global audience of 500 million users.
More recently, however, Yahoo has been seen as moving sideways, even with the overall Web industry on an upward trajectory, said Peter Cohan, president of Peter S. Cohan & Associates.
"[Semel] helped stabilize Yahoo but has stumbled from one incompetent quarter to the next for years," Cohan told the E-Commerce Times. At the same time, his generous compensation package became an albatross around the company's neck as its performance suffered, with Semel bringing home a reported $70 million last year, even though Yahoo shares lost 35 percent of their value.
"In the last year, the disconnect between Semel's pay and Yahoo's performance became too much to take," Cohan added.
For his part, Yang said in a post to the Yahoo blog that he and Decker share a vision of a company "that executes with speed, clarity and discipline."
"The past year has obviously not been an easy one for us," Yang wrote. "But we've taken important steps to address the challenges we face."
Yang cited the launch of the Panama ad system as a head start on the future. "I have absolute conviction about Yahoo's potential for long-term success as an Internet leader. Yahoo is a company that started with a vision and a dream and, make no mistake, that dream is very much alive," he added. "I'm committed to doing whatever it takes to transform Yahoo into an even greater success in the future."
Cracks began to show in Semel's leadership late last year when an internal memo that quickly became known as the "peanut butter manifesto" widely circulated. The memo suggested Yahoo had spread itself too thin across too many areas and was suffering competitively as a result. Not long afterwards, Yahoo reshuffled its management structure to help focus resources on key areas.
Prepping for Sale?
The executive moves renewed speculation in some circles that Yahoo would seek out a merger partner, with Microsoft again listed as a potential buyer and reports suggesting that some traditional media companies may also be interested in the portal.
By tapping Yang as CEO, Yahoo's board may be hoping for the type of renewed focus and energy that came when former company founders such as Apple's Steve Jobs and Dell's Michael Dell returned to lead the companies they birthed, Enderle Group Principal Analyst Rob Enderle told the E-Commerce Times.
The Yahoo situation is different, however.
"Yang didn't really build the Yahoo that exists today," Enderle said. "He is very smart, but it takes a unique kill set to be a CEO for a large company, and even folks that have been groomed often don't do well. I think the board punted and hoped for a Apple or Google result. He doesn't really have the experience running a company of this size and he isn't a turn-around manager. The odds are actually against him as result and he may only be a stop-gap measure until they can find someone else."
Nevertheless, Yahoo needs to do a better job of focusing on key growth areas and opportunities, including the continued recovery of online advertising, the rise of at-home broadband use, social media and the related marketing opportunities as well as the ongoing "competitive flux" at portal competitors MSN and AOL, JupiterResearch analyst David Card told the E-Commerce Times.
"Yahoo continues to be very well-positioned to take advantage of some of the key trends online," Card said.