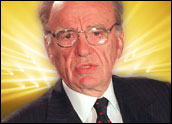 News Corp. honcho Rupert Murdoch has offered to swap the wildly popular social networking site MySpace in exchange for a stake in portal-in-flux Yahoo.
Murdoch reportedly approached Yahoo with the offer of giving the portal ownership of MySpace in exchange for a 30 percent ownership stake of the combined Yahoo-MySpace.
On the surface, the deal seems to address needs of both parties: Murdoch has been looking for ways to expand his media company's online exposure, which in turn will create more opportunities for extending the reach of his traditional media brands; meanwhile, Yahoo has been eager to find the right social networking play, kicking the tires at length on Facebook last year, but reportedly was unable to close a US$1 billion purchase of that site.
Growth in Value
Murdoch bought MySpace in 2005 for $580 million, but since then the value of the site has grown significantly, as it has racked up more users and as marketers have invested in finding ways to leverage social networking to gain exposure for their products.
In fact, the founder of MySpace has said the site was worth as much as 100 times the purchase price. At current stock prices, Yahoo is worth around $37 billion.
The Times of London first reported the proposed swap in its Wednesday editions. Although talks could falter, they are ongoing between the two media companies, the paper noted.
The Google Effect
The gambit comes as Murdoch is in the midst of another takeover drama of his own: His $5 billion bid for Wall Street Journal parent company Dow Jones is still being mulled by the family that controls the majority of the company's stock and other suitors are mulling offers.
Murdoch's News Corp. owns newspapers on three continents, including his native Australia, as well as the Fox channels, movie studios and cable interests.
Meanwhile, it's no secret that Murdoch has designs on being a major online player as well. In 2005, he bought the online gaming network IGN for $650 million and his MySpace buy was seen as a watershed move that underscored the importance of social networking.
Murdoch tried to buy YouTube before Google purchased the online video site. Afterward, the mogul continued to roll up Internet companies, buying online photo sharing site Photobucket in May for a reported $250 million.
Impact of the Shakeup
It's not clear what impact the recent shakeup at Yahoo may have on the proposed deal.
Yahoo CEO Terry Semel resigned on Monday, with cofounder Jerry Yang taking the CEO role. On Wednesday, Yahoo announced partnerships with a number of Asia-based mobile carriers to offer the portal's mobile search tool, but Yang may need to be aggressive and innovative to satisfy shareholders restless about the company's No. 2 position in the search advertising market behind Google.
Yahoo shares were up 1.6 percent in late morning trading Wednesday to $28.08. News Corp. stock was up just under 1 percent to $23.90.
Dressing Up for a Sale?
The changes at Yahoo this week were aimed at both appeasing restless shareholders tired of seeing Google rack up market share, stock price gains and key acquisitions, Enderle Group Principal Analyst Rob Enderle told the E-Commerce Times. Some of those shareholders are likely interested in a more dramatic move, however, including a sale or the spinning off of some noncore assets.
In recent months, Yahoo has been linked to Microsoft repeatedly, with the two sides said to have discussed everything from a partnership to an outright sale of Yahoo to Microsoft. Such a move would create a far more formidable competitor for Google, Enderle noted.
While the arrival of News Corp. on the scene may prompt Microsoft to take another run at the portal, the cultural fit between those two companies may make for rocky times, he added. "Microsoft has a very unique and specific culture that would make an integration as large as Yahoo difficult," Enderle said. "Yahoo's culture is unique as well, but more in the way of Internet companies, which have been acquired successfully in the past."
Constant Flux
Yahoo, meanwhile, would likely be tempted by the dangling of MySpace. Its efforts to acquire Facebook were widely seen as recognition that its own networking gambits — such as photo-sharing site Flickr and Web site tagging tool Del.icio.us — did not represent a large enough footprint in the social networking arena.
Murdoch, meanwhile, may have done as much to cement the idea that social networking had business applications — and therefore could be profitable — as anyone in the Internet space, said Outsell Vice President Chuck Richard.
"Murdoch doesn't buy companies because they're cool, he buys them to make money, so when he put a flag in the ground with the MySpace purchase, it really changed the tone of the conversation around these sites," Richard told the E-Commerce Times.
Still, the social networking space has been seen as one in constant flux, with Facebook and other rivals posing a risk and corporate ownership of MySpace seen threatening its status as a cool place to hang out online, he added.