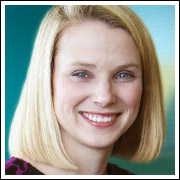 Yahoo plans to breathe some new life into its research and development lab by hiring 50 new PhDs by the end of the year, according to a Bloomberg report.
Spearheaded by CEO Marissa Mayer, the initiative already has resulted in 30 researchers joining the lab, with an additional 20 anticipated by the end of 2013. Yahoo is looking for hires specializing in areas like mobile, Big Data, media science, and pricing and marketplaces. Heading the researchers is Chief Scientist Ron Brachman, a former DARPA director.
The research division of the company, Yahoo Labs, started out in 2005 as a hub for innovative thinking and experimentation, but funds for research were cut during the short-lived tenure of Mayer's predecessor, Scott Thompson.
The revival of research spending comes in conjunction with an acquisition spree. Yahoo recently bought several companies related to media and mobile, as part of its effort to regain its stature as a major Internet player.
Restoring Innovative Spirit
The renewed investment in research and development is consistent with the tone Mayer set in her first year as Yahoo's CEO, said Anindya Ghose, associate professor at the NYU Stern School of Business.
"Overall, Yahoo is definitely more stable today than it was a year ago — and so clearly, Marissa is doing a few things right," he told the E-Commerce Times. "The future of social and digital is going to be in mobile. In fact, every meaningful moment of a consumer's path-to-purchase journey is going to be influenced by mobile devices in a non-trivial way. Hence, it makes sense for Yahoo to put more R&D and investments in mobile."
That strategy is a reversal of Yahoo's more recent business plans, said William Lazonick, director of the Center for Industrial Competitiveness at the University of Massachusetts.
"Although it is no Google, since 2002 Yahoo has been consistently profitable," he told the E-Commerce Times, "but since 2005, the company has been more interested in manipulating its stock price through buybacks than with research and development. Any executive who will throw away billions on buybacks has a big problem with strategic focus and commitment — without which innovative products will never result. Let's see what Marissa Mayer does in this regard."
Too Little, Too Late?
It's still unknown what the impact of Mayer's efforts in acquisitions and research and development will be, said Lazonick. It could be that it is too little and too late for the company to rise to any place of dominance in the consumer device space, especially on the hardware end. With the right type of thinking, though, Yahoo could carve out other niches for itself in the mobile sector.
"It's too late for Yahoo to become a force in smart devices themselves," he pointed out. "Even Microsoft has not been successful, and it started doing research on a tablet in 1999. But with sufficient strategic focus and commitment, Yahoo could find some profitable mobile applications."
What Yahoo comes up with may still be unknown, but Mayer's efforts to reverse some of the decisions of Yahoo's past and go forward rather than back are a step in the right direction, said Joseph Pastore, professor emeritus, Pace University Lubin School of Business.
"I am not sure Yahoo will succeed at thought leadership, but I am convinced that it is the best entrance into the future," he told the E-Commerce Times. "Spending time repairing the past does not work in this industry. Building new directions is what it's all about. Yahoo, while not a strong company, is surely a player in information technology and, more broadly, innovation."