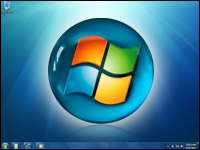 Right now, Microsoft is focusing on the consumer market by getting Windows 7 out in time for the holiday season and announcing price points compatible with recession-era budgets.
However, an even bigger constituency is the business community — and after the debacle that was Vista, it is understandable to wonder how eagerly it will embrace Windows 7.
Holding Back
There are indications that the business community is not waiting with open arms for Windows 7 — despite the pent-up demand likely among firms that stayed put with XP.
For example, 84 percent of IT staff polled in April by Kace said they did not have plans to upgrade existing Windows desktop and laptop systems to Windows 7 in the next year, despite early enthusiasm from beta testers.
Many of the 1,100 respondents to the online poll cited Vista shortcomings as the leading reason for a wait-and-see approach toward Windows 7. In fact, 72 percent indicated they were more concerned about upgrading to Windows 7 than staying with an outdated XP operating system.
Also, 50 percent said they were considering moving from Windows to an alternative operating system. Of that group, 27 percent cited Mac OS X as the top alternative.
Besides Vista shortcomings, survey respondents cited software compatibility, cost of implementation and the current economic environment as reasons for holding off on Windows 7.
Unless they are high-tech firms themselves, companies tend to have conservative IT strategies, Philadelphia-based marketing consultant Scott Testa told the E-Commerce Times. "Usually, they like to wait a little while to make sure the kinks have been worked out — and then start adopting it."
At the very least, he said, most companies will want to wait for the first service pack.
Microsoft suffered a black eye with the Vista rollout, he noted, which exacerbated those conservative tendencies.
Furthermore, "XP still fills the needs for most organizations," said Testa.
Moving Forward
That said, there are good reasons to consider a migration to Windows 7, Rob Helm, managing VP of research for Directions on Microsoft, told the E-Commerce Times.
For starters, he said, Windows 7 is coming into a software and hardware environment that is much better able to support the OS.
"In terms of capacity, hardware and supporting applications have caught up with Windows 7's functionality demands — one of the biggest problems with Vista," he said. For instance, BitLocker, full encryption technology, is much more usable in Windows 7 than in Vista.
The case for Windows 7 adoption, Helm said, is the same as for Vista: improved security, as well as the much-discussed user account control.
Another reason for corporates to move toward Windows 7, Helm continued, is Windows Server 2008 R2, which is coming out around the same time as Windows 7. R2's feature set will simplify remote access for users, "but it needs Windows 7 to work well," said Helm.
Another consideration: XP no longer gets mainstream support, so users will have to pay. Also, licenses for XP will be harder to get as time goes on, Helm pointed out.
Microsoft Makes Its Case
Microsoft is hardly unaware of the enmity — or at least wariness — that many in the corporate IT community feel toward its latest OS. In a blog post published earlier this year, Microsoft's Gavriella Schuster, senior director of Windows product management, acknowledges as much — and then goes on to lay out the case for enterprise adoption.
After undertaking an extensive research effort — which she details in the post — Microsoft focused on three areas of interest for the Windows 7 corporate user:
For mobile users, "we built technologies into Windows 7 such as BranchCache, Direct Access, Federated Search, and Enterprise Search Scopes to enable users to access to their data and applications anywhere and anytime," notes Schuster.
Security and control concerns were addressed with BitLocker To Go, "which protects data stored on portable media, such as USB drives. This enables IT to only allow authorized users to read data or portable media, even if the media is lost or stolen," she points out. "Additionally, AppLocker provides a mechanism for administrators to specify via Group Policy exactly what is allowed to run on their systems."
For management staff, Schuster adds, "new scripting and automation capabilities through Windows PowerShell 2.0 help reduce the costs of managing and troubleshooting PCs."