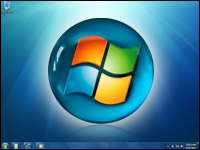 Microsoft has announced price points for its highly anticipated Windows 7 operating system, which is expected to be generally available on Oct. 22. OEMs will start shipping new machines with Windows 7 on Oct. 2.
Regular buyers of Windows will not see a significant change from the Windows Vista price schedule. On average, the new OS will cost about 10 percent less, depending on the version, according to a blog post by Microsoft's Brandon LeBlanc, which outlines the new prices.
Microsoft declined to comment for this story.
Price Breakdown
Estimated retail prices for full product packages:
Windows 7 Home Premium: US$199.99Windows 7 Professional: $299.99Windows 7 Ultimate: $319.99
Upgrades are available at the following price points:
Windows 7 Home Premium: $119.99Windows 7 Professional: $199.99Windows 7 Ultimate: $219.99
There is a substantial discount available — more than 50 percent — for people who pre-order Windows 7 upgrades, says LeBlanc.
U.S. residents can pre-order the Windows 7 Home Premium upgrade for $49.99 or the Windows 7 Professional upgrade for $99.99 via certain retail partners, including Best Buy or Amazon, or at the online Microsoft Store. This promotion ends on July 11 in the U.S. and Canada, and on July 5 in Japan.
For businesses or consumers purchasing new PCs before October — a constituency that includes the back-to-school crowd — select retailers will offer no-to-low cost upgrades to Windows 7 when it becomes available in October, according to LeBlanc. Terms of these offers will vary.
The Windows 7 Upgrade Option Program will be available until Jan. 31, 2010.
Pricing Strategies
Microsoft's decision to stay the course on Windows 7 pricing reflects its somewhat less-secure position in the marketplace, Greg Sterling, principal with Sterling Market Intelligence, told the E-Commerce Times. "It is facing competition on all sides right now. For a long time, their market was not competitive — but that is no longer the case."
A lot of people no longer feel that buying a Mac will marginalize them, Sterling pointed out.
Also, Linux is free, he said, which will go far to keep Microsoft price-sensitive. "There is no near-term superthreat to Microsoft — but the pressure that it is feeling is enough to keep prices steady."
There were a lot of reasons for Microsoft to soften prices — at least on the consumer side, Rob Helm, managing VP of research at Directions on Microsoft, told the E-Commerce Times.
The recession played a role. "In tough times, Microsoft doesn't want to raise the prices of PCs significantly," he said.
The drop for the Home Premium edition — the standard for most consumers — was not a surprise, he added.
Less certain are Microsoft's intentions with respect to pricing Windows 7 for the hot, new netbook category. Microsoft would like to realize higher margins from sales of a light version of the OS to OEMs, Helm suspects.
"The company most likely will be setting higher prices in the hopes that manufacturers will come out with machines that are more powerful and can justify the higher prices," he said.
Vista Redemption
Another factor that may have played a role in Microsoft's pricing strategy is Vista. The myriad problems encountered with the glitch-prone OS left a sour taste in many customers' mouths, said Sterling.
Indeed, Windows 7 has been long anticipated not only by users who were less than wowed, but also by Redmond itself, which suffered a blow to its reputation.
Perhaps that is why LeBlanc took pains to reiterate what will be "new and exciting" in Windows 7: new features such as HomeGroup, Device Stage, Aero Shake, Snap, Peek, Jump Lists and a completely redesigned Windows Taskbar.
The Oct. 22 release will be available in 14 languages, he pointed out; by Oct 31, versions supporting another 21 languages will roll out.