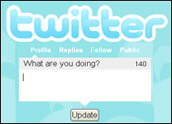 Everyone's talking about Google's next big acquisition, but whether the company will actually make it is far from certain. The services the potential target offers are not quite in line with what Google does — but then again, Google has never followed a straight linear product development road map. It would be a pricey deal — even for Google, which is sitting on some US$15 billion in cash. Plus, CEO Eric Schmidt has all but denied that such a transaction is in the works.
The speculation, which became rampant on Monday, is over the possibility that Google is about to acquire the very popular microblogging site, Twitter. If you're experiencing deja vu, it may be because an almost-identical scenario unfolded in October 2006, prior to Google's acquisition of YouTube for $1.65 billion.
Parsing 'Unlikely'
Indeed, even though executives from Google have all but sworn an oath in various interviews that they would not acquire Twitter, it is increasingly expected in the industry that Google will make a play forthe site.
First, there is Schmidt's cagey wording in response to a question posed by a Cnet reporter about whether Google would acquire Twitter. He replied he "shouldn't" discuss specific deals and that Google was "unlikely" to buy anything in the "short term."
Advocates of the speculated deal point to the benefits each company would realize.
"It's a great fit because, frankly, Google needs Twitter more than Twitter needs Google," Bill Douglass, a social media analyst with Brainerd Communicators, told the E-Commerce Times.
"Twitter Search is superior to Google in one very important respect: getting your finger squarely on the pulse of what's happening right now on any given topic," he said.
Twitter could fetch at least half a billion dollars in cash and stock, Douglass estimated.
"Google should act now, because Twitter is a genuine threat to its basic search service, and because Twitter is growing so fast that it will be worth a billion within six months," he concluded.
Twitter "real time" data points would also add value to Google's core offering, David Erickson, director of e-strategy at Tunheim Partners, pointed out.
"Even though Google does a great job at rapidly indexing the Web, Twitter would give the company a real-time sentiment engine — a source for identifying what is on people's minds in real-time," hetold the E-Commerce Times. "Google could no doubt improve their algorithms to ensure that thesearch engine indexes Twitter instantaneously."
In fact, Google is testing this concept of indexing Twitter feeds via hashtags, he added. "But the analytics that Twitter could provide could help to improve Google's overall search results by understanding what people are interested in at any given time."
Also, Facebook just updated its newsfeeds to function in real time rather than refreshing every 10 minutes. "This move was clearly meant to compete with Twitter's real-time conversations," said Erickson. "As Facebook's adoption rate explodes and people spend more time there, Google could use a stake in the social networking game."
The Market Reacts
Not everyone is enthusiastic about the rumored acquisition. Google shares were down $11.15 to $297.42 in mid-day trading on Monday, noted Frederic Ruffy, an options strategist at WhatsTrading.com — although that may be a reflection of the declining fortunes of Internet search in general.
"In this environment, it seems unlikely that the company would make a move for Twitter — itself a company with an uncertain business model and no actual revenues," he told the E-Commerce Times.
Equally unimpressed by the prospect of a Google-Twitter deal was Richard Laermer, CEO of RLM and author of Punk Marketing.Still, the fact that Twitter has not registered a steady cash flow yet was not at the root of his concerns.
"Unlike a lot of techno gimmicks, Twitter does have a future," Laermer told the E-Commerce Times. "Google wasn't making money for the first few years either."
Still, this would not be a smart move for either Twitter or Google, in Laermer's opinion, because the two companies' businesses are mutually exclusive.
"I just don't see a fit," he said. "The YouTube video acquisition — now, that was obvious. Google needed a video channel. But it already has Gmail as a communication forum."
Google's products are more essential to its user base, he added. "Like a lot of us, I use Twitter as a way to communicate, but I use Gmail as my ultimate resource, and that's not going to change soon."
Also, buying Twitter would be a departure from Google's strategy of only buying products it can't build itself, Laermer pointed out.
For the moment, Twitter will be fine as a standalone product, he concluded. "Eventually it will find a niche in which it can make some money."