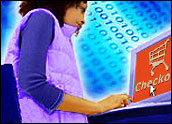 The links on your site work. Your corporate information is up to date — complete with easy to find contact information. Your Web price special is there, flashing wildly, for all to see.
You believe you've done all the right things, but for some reason your customers hate your Web site.
With Web site design, an old adage often applies: You can't define what makes a bad Web site but you know it when you see it.
Over the last ten years, companies have learned to attend to the basics — such as keeping the site current and offering specials to drive traffic. Beyond that, though, many sites still fail customers through poor design. Afraid your Web site might be one of them? Consider the following:
In Less Than Three Seconds
Many businesses make the mistake of hitting the visitor with too much complex information too soon. Their intentions are good — after all, no one wants to host a site that confuses their customers.
"A typical rule of thumb for any Web site, but especially a B2B (business to business) site, is that it has to communicate to visitors what it is all about within three seconds or less," Robert Algeri, a co-founder of Great Jakes, told the E-Commerce Times. "Right away, the visitor must know what the company does, who they serve, and why they are better or different than their competitors."
The 'three second rule' can get companies into trouble by tempting them to throw too much information at their customers too soon.
A company can introduce itself to customers very effectively without overwhelming them, Algeri continued. "The front page might just hint at these points (what it does, who it serves, why it is better) and then drive the visitor to other sections for more information," he suggested.
"Think of it like a pyramid: When the user first comes to the Web site he will find a little bit of information — enough to hold his attention and easy to digest — at the top. That then leads to more information, and then further information." The goal is not to overwhelm the visitor, Algeri emphasized.
"That is a problem with many B2C (business to consumer) or B2B Web sites — too much information, too fast," he said. "The home pages are jammed with links and buttons and special offers. Meanwhile, the visitor isn't quite sure yet what the company does or what she wants to buy."
It isn't always necessary to tell the full story on a Web site, Algeri added. "Give them what they need to know — but at the end of the day, you hope your client picks up the phone to find out more about you."
Your Customers Have to Trust You
Design your site so customers don't have the feeling you're trying to pull one over on them. This goes beyond providing privacy policies — most of which are so intricately crafted they are considered a joke by most consumers — to facilitating a rewarding visitor experience, Ben Shectman, user experience architect for BusinessEdge Solutions, told the E-Commerce Times.
"There are a number of fundamental principles of usability that a lot of sites are still not following," he pointed out. For example, "some companies still hide shipping costs until the last minute." Shipping costs rarely dissuade customers from making a purchase, but some companies persist in hiding costs in the hope of keeping a few penny pinchers from abandoning their cart.
Rounding up those few customers is not worth the effect such a policy has on the overall user experience, Shectman maintained. "This is an issue, because it goes to the heart of whether your customers can trust you."
The best shopping carts are those that keep a running total for customers, such as the ones that some online grocers have. "It's just like shopping in a real store — only better, because the running total is calculated by computer and you can see it instead of estimating the number in your head."
Privacy policies are another tool that, in theory, can be used to engender trust with customers. In reality, they rarely accomplish that goal. The way privacy policies are typically worded is beyond — way beyond — the scope of this article. Written by lawyers for the most part, they are so confusing and vague, they are regarded as a joke by most consumers.
At the very least, though, Shectman said, keep your privacy policy accessible to visitors at all times. Most sites just make it available for first time use. Also, given the rash of hijacked customer information, companies would do well to have a security policy prominently displayed.
You Should Trust the Professionals
The single most important message that companies redesigning their Web sites or setting one up for the first time need to hear, said Michael Schneider, is this: Don't interfere in the design.
"The number one problem for most sites is aesthetics," he told CRM Buyer. Schneider is president of Fluidesign, which has won four Davey Awards for its work on Web sites.
"You still see fonts that are too big or too small, images that don't fit, and poor layout," he pointed out. Oftentimes, they are in response to the direct request of a client.
Law firms seem to be particularly susceptible to this behavior, he said, because the Web site decisions tend to be made by committee.
The best way to proceed is to give the designer adjectives — such as conservative or trendy or exciting — when describing how a site is supposed to come across to customers, and then let the professionals take it from there, Schneider recommends. Articulate the emotional reaction you're going for, in other words, and then leave the execution to the experts.