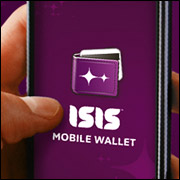 Mobile payment app Isis is focusing on rebranding following the emergence of the militant Islamic State of Iraq and Syria, or ISIS.
ISIS has gained notoriety in recent weeks for its links to violent strikes in Iraq. Not wanting its company to be associated with that group, Isis announced Monday that it will be working on a rebranding strategy over the coming months.
The company didn't reveal a new name yet, and said that until a new brand launches it remains committed to growing its mobile payments ecosystem.
No Such Thing as Bad Publicity?
It's possible that the buzz surrounding Isis' announcement might have piqued the interest of consumers who otherwise would not have heard of the mobile payment company, said Kevin Lane Keller, a professor of marketing at the Tuck School of Business at Dartmouth College.
However, it isn't a good sign that it took the actions of a terrorist group to get people talking about the company, he added. Any short-lived attention it gets now is just another reminder that its brand still doesn't have the name recognition of a company — say Visa or McDonald's, for instance — that wouldn't have to rebrand in a similar situation.
"Hard to see this as a good thing," Keller told the E-Commerce Times. "The name is developing a strong association to all that is bad with that militant group. Any investments in brand-building will have to be redirected to a new name. [There] may be a little bit of a silver lining in terms of some momentary attention, but nothing sustained and not likely to substitute for past efforts."
Beyond a New Name
If Isis wants to make the most of the situation, this could be a unique opportunity for the company to go beyond a name change and rethink how it reaches new consumers, said J. Gerry Purdy, chief mobility analyst at Compass Intelligence.
"Isis hasn't achieved very much, so it is at risk for a bad name connection," he told the E-Commerce Times. "What they may need more than a new name is a new strategy."
Jointly run by Verizon Wireless, AT&T and T-Mobile, Isis has had trouble taking off in the mobile payment space. That's partly because it's up against competition from services like Google Wallet and PayPal, but also because of structural and consumer adoption weaknesses.
An unfortunate naming coincidence could give Isis the freedom to evaluate its flaws, restructure and emerge with an improved product, said Sandy Shen, research director for consumer services at Gartner.
"Isn't hasn't been successful in its wallet service partly due to a lack of user value — lack of service coverage, need to upgrade phones and points of sale, lack of a range of services that can make use of NFC," she told the E-Commerce Times. "Their only path to success is via delivering good value to consumers and merchants. It is actually a good thing that they are not a household name, so that the rebranding can be done much easier and with less attention."