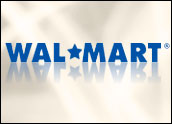 Wal-Mart Stores has launched a new service providing movies and television episodes for sale online.
The company will offer about 3,000 movies and TV shows on the beta version of the online download store, at price points that — true to Wal-Mart's ethos — are cheaper than many of those offered at Apple's iTunes Store, the retail giant's main competitor in this space.
Wal-Mart has cut deals with all of Hollywood's major studios for this venture, as well as some TV networks. Apple, by contrast, does not have a full array of movie studios on board.
Competing With More Than Apple
Wal-Mart is one of the few companies with a chance to shake Apple's hold on this space — which outside of iTunes is largely characterized by one-off offerings such as CinemaNow and Movielink.
Wal-Mart, of course, cannot match Apple's seamless interplay between the iPod and the iTunes store. Nonetheless, its entry has significant ramifications that go beyond the one-on-one competition. For starters, other retailers are likely to follow suit, if only to remain competitive with Wal-Mart.
"We often forget that the No. 1 music and movie retailer in the 'offline' world isn't Best Buy or Tower Records, it's Wal-Mart," Robb Hecht, adjunct professor of marketing at City University of New York, told the E-Commerce Times.
"This move for Wal-Mart to thus become the first major retailer to offer the service of movie/music online downloads makes sense," he added.
In short, Hollywood studios want and need the distribution channels Wal-Mart provides into Middle America, Hecht continued.
"The current online distribution channels will change with the entry of Wal-Mart," he noted. "Currently, people flock to Amazon.com, AOL, eMusic and iTunes to download music and movies online. Certainly a major retailer with [Wal-Mart's] name recognition and brand trust can skew online traffic its way for music and movie downloads. This distribution direction Wal-Mart is taking will influence other retailers in no time."
The Other Side
Wal-Mart's entry also offers new options for content holders, many of which have been frustrated by the rigid price expectations of some of the channels.
"Wal-Mart's 'If you can't beat 'em, join 'em' approach sends a signal to the entertainment industry that the retailers want a piece of the digital media pie," Carla Lynne Hall, author of the e-book The DIY Guide to the Music Biz, told the E-Commerce Times.
This is particularly important because unlike online music, online video consumption is not yet a mainstream consumer purchase. The technologies behind it have not solidified on one platform or around one model.
"We have found that major content producers, including TV networks and movie distributors, are exploring all options for distributing their video online," said Jim Ericson, vice president of marketing for Move Networks, a provider of long-form video over the Internet whose client list includes Fox Interactive Media and the CW.
"The market is unsettled with so many emerging players and strategies," he told the E-Commerce Times. "Downloading files is one way to go, but our research shows with the correct technologies in place, people are also willing to consume video content via next-generation streaming technologies."
Consumer Issues
For instance, Wal-Mart's entry into the video-on-demand market doesn't address the issues that consumers face, such as lengthy download times and prices that are higher than consumers expect, Gregg Freishtat, CEO of Intent MediaWorks, pointed out.
Rather, Wal-Mart's offering is more of a "first step" for content owners as they embrace digital distribution, he told the E-Commerce Times.
"The P2P (peer-to-peer) channel delivers speedy downloads and advertising-supported content that delivers video to consumers at acceptable prices," Freishtat said, predicting that "the future of online distribution will be driven by those that capitalize on P2P."
Viewers Still Need the TV
Additionally, from the consumer's point of view, there are a number of reasons why Wal-Mart's huge economies of scale won't have that much of an impact on this space.
"When it comes to movies, I don't think it will have a huge impact on the film industry, as far as replacing live viewings or rentals — unless the downloads can be saved to disc and played on full-size televisions, or enough folks have the mega-size flat screens hooked to their computers," noted Eva Rosenberg, publisher of TaxMama.com and author of Small Business Taxes Made Easy.
"Let's face it, with all the special effects and visuals, the big screen is still the place you want to see most movies the first time," she told the E-Commerce Times.