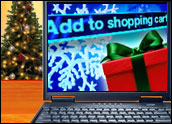 Cyber Monday, the recently nicknamed kick-off to the online shopping season, arrived to heavy fanfare Monday and appeared to be greeted by millions of eager and ready-to-buy shoppers, many of whom got the ball rolling early by jumping online last week.
Cyber Monday was largely invented by the online retail industry to match Black Friday — the day after Thanksgiving, so named because it is the day that supposedly pushes many retailers to profitability for the year. Major retailers and others were lining up to mark Cyber Monday's arrival, despite the fact that the day is not one of the top online buying days in terms of money spent.
Big Deals, Big Savings
Google used the day to launch a holiday site for its new Google Checkout service, Wal-Mart promised special online savings starting Cyber Monday and continuing throughout the week, and Best Buy said it would offer Web-only deals to mark the day.
Shop.org, the online arm of the National Retail Federation, said it expected 61 million shoppers from the U.S. to visit online stores on Cyber Monday. Many consumers respond to the promise of big savings, the same magnet that retailers use to draw shoppers into busy stores on Black Friday.
"While traditional retailers used Black Friday promotions to pack the stores this weekend, online retailers are using Cyber Monday to debut holiday merchandise and offer virtual door-busters," said Shop.org Executive Director Scott Silverman.
Some 400 merchants had put offers on the CyberMonday.com site established by Shop.org last week. At several points early Monday, the site could not be reached or took several minutes to load, suggesting the crush of traffic may have been too much for the site to handle. By midday, the site appeared to be performing normally. The group did not return calls seeking comment on the Web site performance.
If past years are any indication, more buyers will spend more money in the remaining holiday shopping days. Still, Cyber Monday remains a key psychological landmark, launching the start of the mad four-week dash between Thanksgiving and Christmas.
Starting Early
Online shoppers may have gotten an earlier-than-usual start, meanwhile. ComScore Networks said that Web-based sales on Black Friday reached US$434 million, a 42 percent increase over the same day last year. Meanwhile, sales for the first 24 days of November were up 23 percent over 2005 levels to $8.31 billion.
Heavy traffic to some sites caused slowdowns and even took Walmart.com offline briefly, said Gian Fulgoni, chairman of comScore Networks.
"It's clear that many consumers opted for the convenience and sanity of shopping from home in order to avoid mayhem at the malls and to take advantage of the extremely attractive deals being offered online," Fulgoni added. "Online retailers are undoubtedly crossing their fingers that strong Black Friday spending is an indication that Cyber Monday is really going to kick off the post-Thanksgiving online holiday shopping season with a bang."
At WireFly.com, the flagship site of Web-based wireless phone retailer InPhonic, sales started to ramp up Friday, a trend that continued into Monday, according to the company's CEO David Steinberg.
"A lot of guys are out there poo-pooing the idea of Cyber Monday, but we're seeing traffic counts up 25 to 30 percent and people are purchasing in addition to shopping," Steinberg told the E-Commerce Times.
Because many of the products on WireFly are shipped overnight, its busiest Monday last year was the one just before Christmas. "As shoppers get more comfortable with the Web they are more comfortable buying later in the Christmas season," Steinberg said.
At the same time, however, e-tailers are becoming more aggressive about promotions around Cyber Monday, using discounts and special offers to motivate shoppers to buy earlier. WireFly, for instance, was offering free Motorola Razr phones with plan activation on its site. "It's one of our most aggressive promotions," Steinberg added.
Back to Work, Back to the Store
The twist on Cyber Monday is that unlike Black Friday, when many businesses are closed for the Thanksgiving holiday, much of the shopping that occurs will come from work connections to the Internet.
Shop.org predicts that 61 million people will shop online from work this holiday season, up from 52 million a year ago. In addition, Shop.org said a survey conducted for it by BIGresearch found that more than half of all consumers who have Web access at work plan to do some shopping there — and a full three-fourths of all 18- to 24-year-olds with work-based Internet access planned to go online to shop from work.
Shop.org's Silverman said buying from work will peak around lunch hours and said consumers choose to buy from work in part because they can be assured of having their purchases kept private from family members and other gift recipients.
If early trends hold, those Cyber Monday shoppers will mainly be looking for many of the same products, Nielsen//NetRatings senior retail analyst Heather Dougherty told the E-Commerce Times.
Flat screen TVs and the latest gaming consoles such as the Nintendo Wii and the Sony PlayStation 3 are some of the top early items being sought online. Clothing sales continue to surge online as well, with a strong showing on Black Friday, according to Dougherty.
Still, many different categories enjoyed an early surge last week, Dougerty said, including home and garden products.