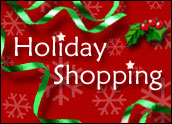 The holiday shopping predictions are in.
Forester Research reports online retail sales this holiday season will reach US$27 billion in the United States alone. JupiterResearch is a little more optimistic, adding $5 billion to that cheery figure. Jupiter further predicts that a record 114 million users will buy online this holiday season.
Researchers agree that mullah galore will pour through the online channel this November and December (and even into January), but what are the key trends that will drive the revenues? Will retailers continue to push the last-minute shipping envelope? Will there be any shockers this holiday season? Industry analysts weigh in on the trends pushing the billions in the last two months of 2006.
Last-Minute Shoppers
"I think we'll see the continued trend of people shopping a little bit later," JupiterResearch Retail Analyst Patti Freeman Evans, told the E-Commerce Times. "Even though the ultimate peak might be around the 15th, we don't expect to see a dramatic drop off during the following week."
Jupiter's research shows that nearly half of those surveyed were willing to purchase after the ground shipping cut-off dates, even if they have to pay for an upgraded shipping service. UPS and FedEx are the most trusted delivery services, Forrester surmised in its holiday shopping research report.
Evans hopes to see e-tailers post shipping cut-off dates earlier in the season so that shoppers can plan accordingly. Her studies show that shoppers want to know who can ship what and when, so they can make decisions about where to make the purchase.
The Time-Starved Consumer
The last-minute shopper ties into another trend: time-starved consumers. While price-driven consumers dominated the landscape of online retail for years (and are still a major driver this year), Forrester sees a more lucrative value proposition for online retail in making life easier for busy shoppers.
"There are four ways to shop online: go to a search engine, go to a marketplace, go directly to the Web store or go to a comparison shopping site," Ken Powell, CEO of Marketworks, told the E-Commerce Times. "We are seeing a new generation of shoppers coming online now that may not go directly to Amazon.com to buy their books. E-tailers can't rest on their laurels anymore."
That new generation may be more likely to go to a comparison shopping site than straight to a Web store. These aggregate properties continue to make an impact because they offer convenience to the time-starved customer. In just a few clicks, shoppers can see the price and selection from several vendors and then choose the best deal.
Whether or not they visit comparison shopping sites, bargain-hunters may be pleasantly surprised this holiday shopping season as analysts expect e-tailers to introduce lower prices earlier in the game.
"Shoppers are getting savvy to the deal sites out there, such as Fatwallet.com. They are going there first before they start their online shopping," Megan Howie, programming director for AOL Shopping, told the E-Commerce Times. "Price-sensitive shoppers will find deals this year."
Leveraging Multiple Channels
Free shipping offers with minimum purchases will remain this year, though Evans expects more e-tailers that have a bricks-and-mortar presence to rely on multi-channel shopping.
"We'll see a lot of promotions around the convenience of in-store pick up, which is a good thing for everybody," she noted. "The retailers have a guaranteed sale and also drive more people into the store. The consumer is assured that the product that they are looking for is available and they can get it on time."
Savvy Selectors
The Web, however, offers one advantage that the bricks-and-mortar world does not — greater selection. Small businesses may have an advantage in the selection category, according to a Yahoo Small Business survey.
Three out of four holiday shoppers said they plan to shop for holiday gifts online, and 75 percent said they are likely to purchase gifts online from small businesses. Nearly a third of holiday shoppers said that they would do half or more of their holiday shopping online, and nearly two thirds said online specialty, "niche," or boutique retailers are one of the "best places" to shop for unusual or hard-to-find gifts, according to the survey.
"Many consumers rely on small businesses that are online during the holiday shopping season because they offer variety, value and unique gifts that aren't always available in stores," said Rich Riley, vice president and general manager of Yahoo Small Business.
"The survey shows that shoppers have high expectations, but also high confidence in buying holiday gifts online with small businesses," he added.
Looking for Ideas
Shoppers who are stumped will go online looking for gift ideas this shopping season, Howie predicted. She said clothing, accessories, digital cameras, cell phones and, of course, video game systems will be hot items this year.
In essence, this year is "more of the same" in the e-commerce realm. Many of the same trends, but much more activity online, and greater revenues across the board both during the peak season and after Jan. 1 when the frantic pace dies down.
"We'll see a continued trend toward post-holiday purchasing which has been a trend offline as well," Evans said. "A tremendous amount of business will occur from the week between Christmas and New Year's and the first week or so of January."
The take away is that e-commerce continues to grow exponentially. AOL drove a mere $1 billion in 1998 holiday sales. The entire 1999 holiday shopping season posted $7 billion, according to Jupiter. By 2011, online retail will comprise 9 percent of total retail sales for a whopping $270 billion.