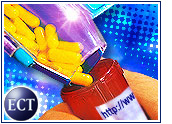 VitaminShoppe.com (Nasdaq:VSHP) rose 7/16 to 3/4 on Wednesday after the vitamin e-tailer said itsmajority shareholder offered to acquire the shares it does not already ownfor US$1 in cash apiece.
The proposal from the shareholder group, VitaminShoppe Industries, Inc., issubject to board and shareholder approvals, as well as the signing of adefinitive agreement and consent of the company's lenders. A specialcommittee of directors is evaluating the proposal, the company said.
VitaminShoppe Industries owns about 64 percent of the New York-basede-tailer's outstanding common shares.
In November, VitaminShoppe reported third-quarter sales of $6.6 million, upfrom $3.7 million a year earlier but below the second quarter's $8.6 million,because of a plan to cut back on discounting and marketing initiatives. Thecompany lost $6.5 million, or 32 cents per share, in the quarter endedSeptember 30th, compared with $6.6 million in the year-earlier period.
President and chief executive officer Jeffrey Horowitz said the decline inrevenue was driven by the decision "to reduce the scope of our overallpromotional discounting and marketing initiatives."
Added Horowitz, "While these factors contributed to lower sales, we were able to conservecash and improve our gross margin. In addition, as ourcompany moved out of the development phase to an ongoing operation, werestructured and reduced ourstaffing requirements."
Horowitz also said the company was evaluating "alternatives to increaseliquidity and otherwise create additional shareholder value."
VitaminShoppe shares are down from a 52-week high of 13 7/16.
The e-tailer sells vitamins, nutritional products, personal-care,homeopathy and fitness products, and provides information about health.