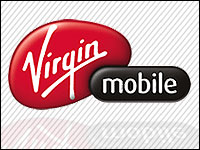 Virgin Mobile is making an aggressive move in the mobile broadband arena, going head-to-head with the likes of AT&T and Verizon Wireless. Beginning Wednesday, the carrier is offering a US$40 unlimited mobile broadband plan without a contract. Similar offerings from competitors are priced at $60 per month and usually call for a two-year contract.
Virgin Mobile's new offer works using a USB device or a mobile hotspot, which can be purchased for $80 or $150, respectively.
The offering is part of Virgin Mobile's mobile broadband portfolio, which launched last year with the introduction of its Broadband2Go offering, followed by the rollout of its MiFi 2200 product — a mobile hotspot that can support up to five devices.
The all-you-can-eat $60 service will replace the Broadband2Go $20, $40 and $60 price points with data caps. Virgin Mobile will continue to offer its $10, 100-MB option, which times out after 10 days.
Virgin Mobile's broadband service uses Novatel Wireless hardware and runs on the Sprint network.
Jostling for Market Share
Virgin Mobile doesn't have a specific goal in terms of how much market share it wishes to grab with this offering, "but we do feel we are in a much better competitive position versus other providers with this offer," Rich Alexander, director of mobile broadband for Virgin Mobile USA, told the E-Commerce Times.
The company is targeting self-employed and independent workers, a group that makes up about 30 percent of the U.S. workforce, according to Labor Department figures.
Pent-Up Demand
There is very likely pent-up demand for a service like this, Dan Olds, founder of Gabriel Consulting, told the E-Commerce Times. "It is a very aggressive price with no contract — which most consumers hate. Assuming they can back up the offer with the necessary speed and performance and availability people expect from broadband, I think they will grab a lot of attention with this deal."
It may even raise awareness of Virgin Mobile's other products and services — and possibly Sprint's as well, Greg Sterling, principal with Sterling Market Intelligence, told the E-Commerce Times.
Sprint's value-add brands are Boost and Virgin Mobile, but the latter is definitely the sexier of the two, he said. "It will be interesting to see where Virgin Mobile and Sprint decide to go. This offering suggests they may be thinking about stepping up their game."