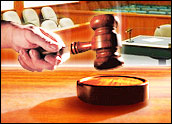 A Nevada judge has ordered that 228 online domains belonging to outfits that sell counterfeit Chanel items be seized, shuttered and de-listed from social networks and search engines. The case has raised questions regarding the control of Internet fraud in a widespread global marketplace and what constitutes censorship.
Luxury goods maker Chanel filed a joint suit against 700 domain names of sites peddling perfume or other items illicitly bearing the company's brand. It reportedly used a private Nevada investigator and an anti-counterfeit specialist to track down the illicit vendors. The judge ordered the seizure of 228 of those sites Wednesday and said that the domain names would be released to registrar GoDaddy.
Furthermore, the judge ordered that the sites be removed from "all Internet search engines" and "all social media websites," specifically naming Facebook, Twitter, Google+, Bing, Yahoo and Google.
None of the retail sites were reportedly given the opportunity to defend themselves in a hearing.
Law vs. the Internet
"The decision is unusual, because typically to obtain relief such as the relief that was granted to Chanel, the plaintiff, in this case Chanel, must demonstrate specific acts of infringement by an identified defendant. In this case, the relief was atypical and extraordinary because a large number of defendants were not identified, and the relief was granted against defendant domain name holders without proof of infringement," Kurt Olender, attorney at Olender Feldman, told the E-Commerce Times.
In addition, the domain names were immediately turned over to GoDaddy, a troubling decision for some rights holders, especially as a decision on the hotly contested Stop Online Piracy Act (SOPA) looms.
"In order to transfer domains at this stage is highly unusual, but it should be noted would be allowed by the very controversial SOPA, currently before Congress," Rich Santalesa, attorney at InformationLawGroup, told the E-Commerce Times.
In the meantime, the judge seems to be using other means to seize and turn over the domain names.
"It seems as though the remedies granted by the Nevada judge fall under the proposed Protect IP Act, which allows a private right of action and also allows the AG to obtain an order directed to search engines to break links to the site in question," Darin M. Klemchuk, attorney at Klemchuk Kumbasta, told the E-Commerce Times.
Is It Enforceable?
The court's decision also raises questions about how broad a ruling can be when it involves a global network of websites, many of which have other functions besides selling fake Chanel goods or aren't based in the United States.
"The court's recent actions appear to raise due process and procedural concerns as well as legitimate issues about whether necessary applicable jurisdictional requirements have been met as to all the defendants and domain holders," said Santalesa.
Enforcing the ruling on social networks may also be difficult, considering many use third-party sites, — for example, Twitter uses Bitly — to add links or content to status posts. For an organization to go in and remove every Bitly link advertising fake Chanel goods would be a formidable task.
"From an enforcement perspective, the judge actually lacks jurisdiction over Facebook, Google, etc., as they were not parties to the court proceeding. They could, effectively, ignore the court's order, and Chanel would be forced to bring legal action them to enforce the order," said Olender.
In addition, networks such as Facebook and Twitter operate on a global level, and it's unclear what kind of jurisdiction a U.S. ruling would have in worldwide markets.
Still, the act of selling fraudulent goods online remains a crime. As the legal world tries to keep up with online commerce, more questionable court cases are likely to be fought.
"The sale of counterfeit goods is, in fact, illegal. The defendants, engaged in conduct that is illegal in the United States, simply cannot afford to submit to jurisdiction in the U.S. Thus, they do not oppose the complaints. Also, someone engaged in the active and knowing sale of counterfeit goods is not likely to receive much sympathy from the courts. As a result, we see decisions that often do not reflect a balanced application of legal rules," Warren E. Agin, attorney at Swiggart & Agin, told the E-Commerce Times.