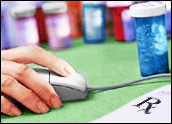 Google has set aside a cool half-billion dollars to cover any penalties related to AdWords postings for illegal drugs. The search giant is nearing a settlement with the U.S. Department of Justice in a criminal investigation into allegations it made hundreds of millions of dollars by accepting ads from online pharmacies that violate U.S. laws, The Wall Street Journal reported on Friday.
Google disclosed in a recent regulatory filing that it had set aside US$500 million to potentially resolve a case with the DoJ. A payment of that size would be among the highest penalties ever paid in disputes with the U.S. government.
Advertisers Gaming the System
Advertisers can be held liable if they are found to be profiting from illegal activities. There are many websites that offer to dispense prescription drugs, and some are in violation of U.S. laws. They may sell counterfeit or expired medications, or dispense without a valid prescription from a doctor.
Early last year, Google said that it would begin allowing ads only from pharmacies accredited by the National Association of Boards of Pharmacy and the Canadian International Pharmacy Association.
Last September, Google filed a suit against advertisers it believed deliberately broke its rules as part of an ongoing attempt to block rogue pharmacies from using its AdWords system.
Google made nearly $30 billion in ad revenue in 2010, mostly from its AdWords program. AdWords gives advertisers access to targeted customers and is only paid for when a customer clicks on an ad.
Google spokesperson Aaron Zamost told the E-Commerce Times the company is withholding comment because this is a legal matter.
Fox Assigned to Henhouse Duty
There are not yet specific laws that limit Google — things are dealt with differently online. It's not like an advertiser erecting a highway billboard to promote an illegal business. There's not much precedent to rely on.
"This is all a new area," Laura DiDio, principal analyst at ITIC, told the E-Commerce Times. "Five or 10 years ago, this wouldn't have been a consideration. There are no laws for this yet. Google has 65 percent of the search market. They have a terrific amount of money. So the Department of Justice is trying to keep pace with Google, but they can't assess fines at this point.
"They could tell Google 'we're going to come down in other areas,' so Google has to police itself," DiDio continued. "When commerce comes up against principle, the principle is usually the loser. Apple usually puts on a good face when they cross the line, but Google doesn't bother."
Google may need to develop a new way to screen its AdWords partners. This isn't so easy when advertisers can simply help themselves. Chances are, ads will appear before Google even notices. The question is, has Google ignored the illegal websites in the past?
"What we're seeing with Google is a consistent pattern of putting profits before principle," said DiDio. "I don't even think they would have given this a second thought had this not been coming to the attention of the public and the Department of Justice. They also still have the gaming pit bull fighting advertisement."
Did Google Break a Law?
Many details of the settlement are still under wraps. The problem here is determining Google's responsibility in the sale of ad space to illegitimate businesses.
"It's not really a surprise to see the headlines, but until the actual terms of the settlement are disclosed, it's not entirely clear what Google admitted they did," Peter S. Vogel, partner at Gardere Wynne Sewell, told the E-Commerce Times.
"There are no real legal requirements for search engines in this space," he observed. "The issue is really selling ad space."
A Google penalty may be enough to set a precedent for authorities to take future action. It gets sticky when advertisers can access automated systems like AdWords, though.
"One issue is whether Google knowingly violated laws," said Vogel. "When a high-profile company like Google pays large fines, it will set the tone and require federal and state regulatory authorities to be vigilant."
This settlement will end Google's sale of advertising to illegal pharmacies, Vogel expects.
"I'm guessing a fine and agreed injunction to not violate these specific laws in the future will be the result," he said. "Violating the injunction could lead to contempt of court for Google."