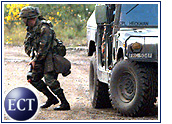 The U.S. Army has awarded Northrop Grumman a contract to provide battle command training support to Army commanders to improve their capabilities. The contract value is approximately $408 million over ten years.
As part of the contract, Northrop Grumman's IT departments will provide planning and support for war exercises that simulate command-and-control decision-making under realistic conditions. These exercises constitute a major portion of simulation support for the Army.
"We offer a world-class opposing force for these battlefield exercises that enhances training realism," said Gregg Donley, president of the IT sector's technical service business unit at Northrop Grumman. "We have extensive experience in the complexity and technicalities of these training events and have offered the Army the best technical solution."
This Army contract broadens the company's participation in joint training exercises for the U.S. military. Northrop Grumman also provides military training to the U.S. Air Force and the U.S. Department of State.
Northrop Grumman's mission systems division provides training support for the Joint War Fighter Center and to other Army and Air Force customers.