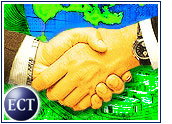 UK online travel agency Lastminute.com (Nasdaq: LMIN) said Monday it has acquired Urbanbite.com, a Web-based company that delivers take-out food in the UK and the Netherlands.
Lastminute said it will issue 442,151 shares to pay for the acquisition, valuing Urbanbite at about 140,000 British pounds (approximately US$196,000). Lastminute said it expects to close the deal July 19th.
According to Urbanbite's Web site, the company is the largest online food-ordering site in Europe, with deliveries from more than 450 participating restaurants in the UK and more than 100 in the Netherlands.
Expansion Minded
Urbanbite says that it handles thousands of orders each month. Corporate customers provide 40 to 50 percent of the company's orders.
Urbanbite, whose initial investors included Agency.com and Newconomy Ventures, began service in London and Amsterdam last year, and this year added Bristol, England and Rotterdam, Netherlands. The company has said it plans to launch next in Manchester, England and Utrecht and The Hague, Netherlands.
A Lastminute.com spokeswoman would not comment further on the acquisition, saying the company plans to issue a detailed statement in about two weeks.
Last-Minute Deals
London-based Lastminute.com features short-notice deals on airline tickets and hotels, as well as restaurant reservations. The company, Europe's second-largest online travel service, operates in the UK, France, Germany, Italy, Sweden, Spain, the Netherlands, Australia and South Africa.
For the quarter ended March 31st, Lastminute reported gross profit of 3.9 million pounds and a net loss of 10.7 million pounds. The company expects its combined UK and French operations to post a profit within the next year.
Travel Demand Surging
Lastminute is branching out even as demand for online travel services soars, in Europe as well as in the United States. According to a report last month from Jupiter MMXI, European travel sites saw a spike in traffic between November and April, with almost 4 million more users looking for travel deals.
Lastminute was the only site to rank among the top 10 Internet travel destinations in the UK, France, Germany, Sweden, Italy and Spain, according to the Jupiter report.
A separate report earlier this year from travel-measurement company PhoCusWright also found strong demand for online travel services in Europe. The firm said the growing use of flat-rate Internet access plans, personal computers and wireless devices, and improved bill payment and security measures, should help the market grow.
Meanwhile, in the United States, online travel company Travelocity.com (Nasdaq: TVLY) said last month it would offer last-minute bookings as competition heats up. U.S. e-tailer Priceline.com (Nasdaq: PCLN) also offers last-minute deals for travelers looking for spur-of-the-moment trips.