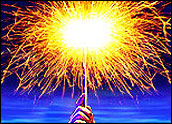 Online travel company Travelocity.com (Nasdaq: TVLY) has announced an agreement with Walt Disney Parks and Resorts to offer Disney theme park ticketsand on-site hotel reservations.
Travelocity Vacations said it will begin selling Walt DisneyWorld Resort vacations in the first quarter of2002 and will phase in Disneyland Resort packages inCalifornia later in the year.
"Travelocity brings Disney the advantage of one-stopshopping," Gartner research director DavidSchehr told the E-Commerce Times. "Disney's ownvacation site does not include flights, so they cannow [accommodate] people who want to book the wholepackage instead of 'walking the sale.'"
The deal aids Travelocity's continued efforts toexpand its merchant model and diversify revenuestreams for air and vacation sales.
Merchant Model
Under the terms of the agreement, Travelocity — the sixthlargest U.S. travel agency — will offer land-only andair-inclusive vacation packages for all on-site WaltDisney World Resort hotels. The packages will include admissionto Disney's theme parks, according to the company.
"We are putting more resources toward merchantproducts, where we negotiate directly with wholesalersand sell directly to consumers," Travelocity seniorvice president of leisure travel and partner marketing Chris McAndrewstold the E-Commerce Times.
Vacation Time
Beyond point-to-point air fares, Travelocity hasseen sales of complex travel products like vacationsand cruises more than double over the past year, McAndrews said.
The Disney agreement figures prominently inTravelocity's revenue plans for 2002, Schehr suggested.
"Expedia (Nasdaq: EXPE) did a bit better last quarter becausethey had more hotel inventory and more revenuesoutside flight bookings," he said. "[The Disneydeal] shows Travelocity is trying to boost nonflightrevenues."
Because Disney is a well-known entity, there is verylittle fear, uncertainty or doubt among consumers when it comes to purchasing the packages online, he added.
Disney Demand
The addition of Walt Disney World and DisneylandResort vacations completes the DisneyDestinations portfolio offered by Travelocity, whichalready features Disney Cruise Vacations.
For its part, Disney will launch dedicated marketing campaignsgeared toward Travelocity's more than 32 million members, the companies said.
Travelocity also will incorporate Disney content intoits site — including maps, coming attractions and newrides — to enhance the shopping experience.
Rival Reaction?
The Disney deal and others like it will bringTravelocity closer to its 2002 revenue growth targetof 20 to 30 percent from last year's US$301.8 million, Jones said.
At this point, rival Expedia only offers reservationsat the two non-Disney-owned hotels at Disney World,according to Schehr.
But, he added, Expedia probably will cut a similar deal withDisney in the next few months.