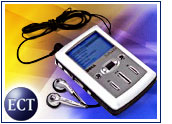 Although technology moves at a fast clip, the leaps and bounds in theevolution of digital music players to date have been especially speedy.
Only a few years ago, a digital music aficionado's choices consisted mainly of128-MB flash players that held only a handful of songs. Now, 40-GB devices double asportable hard drives and hold up to 10,000 songs. Not surprisingly, this movetoward more technological power has been embraced by consumers, and adoptionof digital music devices is growing steadily.
With the music-player revolution moving ahead at full speed, what's next forthis technology?
Live Battery
One aspect of digital music players that likely will keep changing is theirtechnological components. Hyder Rabbani, president and COO of music-playermanufacturer Archos,told the E-Commerce Times that the near future will bring better versionsof everything that is on the market today.
"In the same way that hard drive technology keeps advancing, digital playertechnology will continue to be more refined," Rabbani said. "Don't expect anydramatic changes, but rather, steady changes for the better that are done ata fairly fast pace."
In particular, the trend toward miniaturization should make for aninteresting next couple of years. Apple has just unveiled the iPod mini,which holds 1,000 songs and is about the size of a business card. Rabbaninoted that competitors are likely to move in the "smaller is better"direction as well.
One benefit of making smaller devices is that battery life can beextended, according to Rabbani.
"If you go from a 1.8-inch drive to a 1-inch drive," he said, "you couldsave 60 to 70 percent of your power consumption based on form factoralone."
Music Plus
In addition to their shrinking form factors and increasing capacity,digital music players have evolved to include more features, memory andmusic-format options. Jonathan Sasse, president of iRiver, told the E-Commerce Times that consumers, not developers, will continue to drive this type of innovation.
In this vein, one trend that could develop is further consolidation,making music players capable of doing more than delivering tunes.
"We see portable entertainment being a category that will emerge throughout2004 and increase to include multiple music formats [and] multiple videoformats, along with integrating photos," Sasse noted.
The reason why tomorrow's devices will have such power is that playershave more and more storage capacity. With such a luxurious amount of space,consumers likely will seek to fill it with more than Britney and Outkast.
Content Is King
Another potential addition to digital players is an increase in the kindof content such players have excelled with already: music.
"What you're going to see soon are players that come with preloadedcontent," Rick Grienzewic, Gateway's director of digital audio, told theE-Commerce Times. Music and other audio files, such as audiobooks, can bepreloaded onto a device via a subscription service. He added, "New digitalrights management will allow you to do that, and I think it's going to bebig."
Grienzewic said he thinks offering preloaded content with few restrictions, aswith the iTunes model, would be cost prohibitive. However, Rabbani noted that itcould be done as long as usage provisions were put in place. For example, contentloaded onto a player could be prohibited from being downloaded to anotherdevice, preventing the music from hitting illegal file-swapping sites.
Already, the kinks are being worked out for this evolution, Rabbani said.Archos is looking into developing a way to include preloaded content thatcan be selected by a consumer from a Web site.
"There are many ways to use this kind of content and develop it," he said."We're seeing it as the advent of a new business model for the industry."
Pick and Choose
Although music players seem to have a bright future, with more storagecapacity — and probably higher price tags — Sasse noted that the rangeof devices now available indicates companies still are working to serveconsumers who seek lower-end, cheaper alternatives.
The next few years should see a profusion of music players at allcost levels and capacities, he said.
"Digital music players have evolved to fit different lifestyles," Sasseadded. "128-MB music players are still very popular and serve a specificmarket need."
Indeed, Rio vice president Kevin Brangan noted that the current marketplace isabout 80 percent flash players and 20 percent hard drive players — and he doesnot expect that ratio to change in the near future. Within both the flash andhard drive realms, there will be many more options in coming years as moredevelopers enter the industry.
"Having so much choice is ideal for the consumer," Brangan told the E-CommerceTimes. "There will be more players being launched, and that will lead to evenmore choices. It's going to become pretty exciting from here."