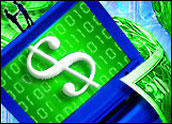 For anybody who is trying to spend a little less money, a visit to Freecycle may be just the ticket. The concept is a simple one: You sign up for a group based on your ZIP code. Then, if you have something, anything really, you don't want — a desk, a flowerpot, a printer, even a used Halloween mask — you post it to the board. The board then e-mails everyone in the group that your item is available.
Then, and I can attest to this personally, the e-mails from people who want the item start to pour in, usually within minutes. All are pretty much asking nicely for the item — some imploring, some beseeching. And why not? It's free and, per the Freecycle ethos, in good enough condition to be used again.
Perhaps expecting a similar site and community to spring up in the corporate world — even considering the current economic maelstrom — is merely a pipe dream. Indeed, any company that decided to give away used items instead of selling them would be doing a disservice to its stakeholders.
Still, companies can take a page from the give-away playbook, and through the application of some relatively sophisticated technology, they can add a bit more efficiency, if not solvency, to their operations.
Trade Dollars
International Monetary Systems, a business-to-business barter site, has been in existence for several years. Now, though, it is in the process of updating its technology to automate the transaction process as much as possible, Krista Vardabash, director of marketing, told the E-Commerce Times. Possibilities include transactions conducted over mobile phones and via the community's own debit card.
Some 18,000 businesses use the barter network, which International Monetary Systems runs with its proprietary transaction clearing software, Trade Network Tracking (TNT) system. Essentially buyers and sellers trade goods and services online using an electronic currency known as "trade dollars" — similar in some respects to the Linden dollars in Second Life.
The system eliminates all of the inefficiencies associated with a barter transaction, Vardabash said. "If you have a good or service you want to barter, first you have to find someone who wants what you have — and who has something of equal value to trade."
IMS brings these parties together and establishes a value for the various and sundry services that are offered, she said.
For example, a Web developer may charge US$5,000 for a job in the "real world." That same fee can be attached to the same work conducted through the IMS network, but instead of cash, the developer would receive an electronic transfer of $5,000 in Trade Dollars that could be spent in the network on, say, advertising or new business cards, or a printer.
The company is currently developing new systems that will allow it to automate even more of the process, Nathan Alpert, lead programmer for IMS' TNT system, told the E-Commerce Times. "We will be issuing our own credit cards and terminals, for example."
Spectrum Auctions
Another example of a corporate marketplace for bargain hunters is SpecEx, an online exchange launched by Spectrum Bridge, which matches buyers and sellers of wireless spectrum.
Participants are able to find each other using a Web browser to access a comprehensive online database of available licensed spectrum.
The wireless spectrum marketplace in general is highly inefficient, Rick Rotondo, chief marketing officer of Spectrum Bridge, told the E-Commerce Times.
However, e-commerce technology can standardize much of the process, he said. "What we are trying to do is be the eBay of the wireless spectrum world — a one-stop shop where companies can go to monetize excess or idle spectrum, and spectrum seekers can go to find reasonably priced unused spectrums."
The spectrum world is almost tribal, Peter Stanforth, chief technology officer for Spectrum Bridge, told the E-Commerce Times. "It consists of small groups of people who know each other — [and] do everything manually."
That is not an efficient system for smaller parcels — SpecEx's sweet spot. "By automating a lot of functions and bringing in a wider audience of buyers and sellers, we are making these smaller pieces more liquid and valuable," explained Stanforth.
Rotondo compared the SpecEx service to Craigslist, another favorite site for consumer bargains — although, unlike Freecycle, little on Craigslist is actually offered for free. Still, with its launch several years ago, Craigslist made the sale of small consumer items efficient, which is what SpecEx aims to do with respect to the sale of wireless spectrum parcels.
"Let's say you had used sunglasses you wanted to sell, for maybe $25. Before online classifieds were introduced, it would not have been cost-efficient to try to sell them to a huge audience in a paper, because the ad probably would have cost you $20."
Same thing with wireless spectrum, he said. "Transaction costs are eating up most of the value for small buyers and sellers."
Corporate Classifieds
The SpecEx model, though, may be the closest the corporate world gets to that bargain hunter's nirvana — the classifieds. It would be very difficult for a straightforward site like Craigslist to spring up in a B2B setting, Oodle CEO Craig Donato told the E-Commerce Times.
Oodle, one of the largest online classifieds services in the U.S., powers Military.com, where members of the armed services buy and sell goods as they relocate. It is looking at establishing a classified section for a social networking site.
In general, Donato said, a site like Craigslist or a business classified site that is not limited by geography or industry does not scale well with volume.
"Whenever something free or a bargain is involved, if you don't have sophisticated technology to moderate the users, it is like going to a gunfight with a knife," he commented. "You will get creamed."