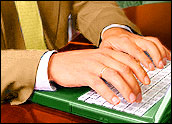 Small to medium-sized e-commerce companies can go a long way toward marketing themselves online by doing some simple search engine optimization (SEO) and taking the time to foster some inbound links to their site.
Both can be done without an advanced degree in computer science, and both can cost little or no money.
However, the opportunities don't stop there. Thanks to the interconnected nature of the Web, a number of other steps can help e-commerce companies reach even more potential customers for next to nothing.
Part 1 of this two-part feature looked at myriad ways small e-commerce firms can use SEO and links to help customers find them. This installment looks at other tricks and techniques to stretch the online marketing budget even more.
Start Writing
Offering your own useful content is a powerful strategy for marketing online. Say you're a carpet cleaner, for example. If you can write a short article with tips for keeping carpets clean between professional cleanings, that could be of great value to readers, Caroline Melberg, president and CEO of Melberg Marketing, told the E-Commerce Times.
"The best thing you can do with a good idea is give it away," agreed Will Dylan, author of Small Business, Big Marketing. "Good information about your product or the problem it is designed to solve will establish you as a credible authority in your field, and that will have a positive rub-off effect on the trust level that people place in your Web site," he told the E-Commerce Times.
Your keyword-rich article can be something to draw users to your own site, and it can also be something you post on free article directories online, such as Ezinearticles.com or Ideamarketers.com, along with a link to your site, Melberg added.
Swap Meet
"That helps with two things," she explained. "First, you get a one-way link into your site; second, and more important, you're getting your content and ideas in front of a lot of potential new clients. And when other e-newsletter publishers go out looking for content, they may pick up yours and send it out to their subscribers."
Those whose palms begin to sweat at the thought of writing more than a short e-mail can try to tap into the capabilities of those around them through barter arrangements, Melberg added.
"If your sixth-grade teacher told you not to rely on your writing to make a living, you may want to form a strategic alliance with another business owner," Melberg explained. "Ask one who's a good writer to write your white paper for you, and offer them some corresponding service in exchange."
Keyword Needs Home
Search engine optimization and inbound links can take a Web site a long way, but it takes time to get into Google's top ranking. Until that happens naturally, it might be worth considering paid search, or the option of paying Google to list your Web site at the top when users search on your keywords.
Prices, usually done on a per-click basis, are set in an auction-like manner, so the more other companies there are interested in the same search terms, the more you'll have to pay. If you compete in a niche market, however, it may not be too bad.
"If you're trying to use the keyword 'automobile,' you're going to have to go up against the big guns," Orvel Ray Wilson, coauthor of the Guerrilla Marketing series of books, told the E-Commerce times. "But if you compete in the market for custom horse collars, for example, the range of potential competitors is probably pretty narrow, and you may be able to buy a term for pennies a click."
The lesson: "Be creative in looking for underutilized keywords," Wilson advised.
Going for the Relationship
In all of these strategies, the overriding goal is to increase your site's search engine rankings and, in turn, the chances that users will visit. Then, it's usually up to the visitor to decide whether they will stay or make a purchase.
The job of converting a visitor to a customer is never an easy one, but ePrize, which focuses on interactive promotions, has an innovative offering aimed at helping small businesses do just that.
"We believe that marketing is headed toward the concept of one-to-one relationships," ePrize founder and CEO Josh Linkner told the E-Commerce Times. "For small e-commerce companies to compete, they need to really get to know their customers and prospects on a first-name basis." That way, they can engage them, nurture the relationship and convert more anonymous visitors into customers, he explained.
Enter to Win
ePrize has long helped Fortune 100 businesses conduct sweepstakes as a way to involve consumers in a personal way, and in January it launched CaffeineNow.com to bring the same capabilities to small and medium-sized businesses.
In a 2002 study, JupiterResearch found that 82 percent of consumers say they will provide personal data in exchange for a chance to win, Linkner noted. "The most powerful tactic to convert anonymous browsers into registered relationships is sweepstakes," he explained.
The basic Caffeine service, including graphics, security and even the sweepstakes prizes, is free; each company then sets a weekly budget limit, and pay US$1 per lead. It's entirely opt-in for consumers, and the result is an increase of 30 percent in click-through rates, and a 400 percent increase in registration rates, Linkner said.
Spreading the URL
Finally, something many don't realize is that creating a Web site — however wonderful and optimized it might be — is only the first step. In fact, it's just as important for an e-commerce company to promote its Web site as it is for it to create it in the first place, Wilson pointed out.
Companies should spend a third of their Web budget creating the site, a third updating and maintaining it, and another third promoting it through other marketing vectors, he said.
"One thing that's commonly overlooked is the importance of featuring your Web site in all your other media advertising, including business cards, bumper stickers and the like," he said. "Put your URL everywhere."
With your URL all over the place, you can only hope potential customers will be too. Then, if you've done things right, they really will come.
Marketing for Little Guys, Part 1: Making Friends With Search Engines