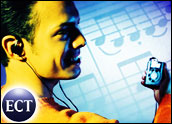 A Russian court acquitted Denis Kvasov, chief of now-closed music site AllofMP3.com, of copyright violations in a case widely seen as a test of Russia's commitment to protecting intellectual property under global agreements.
The site sold individual music tracks at below market value without the permission of copyright owners, according to plaintiffs.
The pivotal case is only one of several pending against officers of Media Services, the parent company of AllofMP3.com; the legal wrangling over the site is far from over. In addition, the judge in the case, Yekaterina Sharapova, indicated in her written decision that the prosecution of the case was not up to par and left the door open for an appeal.
Fighting on All Fronts
For companies like EMI, Warner Music and Universal — plaintiffs in the Kvasov case — international copyright agreements represent only one front on which they are fighting to protect their revenue streams. Piracy always has been a problem, demonstrated first, and perhaps most notably, by the early days of Napster.
However, the way that music is sold to online consumers is itself undergoing a sea change, Rob Enderle, principal analyst with Enderle Group, told the E-Commerce Times. The shift can been seen in Universal's recent tougher negotiations with online music giant iTunes over contract renewal issues.
New Content Models
On one side, online music companies are being pressed by the tendency of consumers to want content for free — whether it happens through legal or illegal channels, onshore or offshore.
However, purchasers also are weighing the relative value of buying music by the track, as with iTunes, or buying it through monthly subscription services, such as Yahoo Music, said Enderle.
Sites like AllofMP3.com fall somewhere in the middle of that dilemma, regardless of copyright law. They do sell music rather than provide it for free, but for far below the price for which it can be acquired legitimately. The music that consumers download, though, is theirs to keep. With a subscription service, a consumer loses access to music tracks once the subscription expires.
Willing to Pay
In addition, consumers have indicated varying levels of willingness to pay for music in a variety of formats and rights arrangements. For example, users of the broadband service Ecast will pay anywhere between 50 US cents to $1 to hear a song just once in a bar or club, Ecast brand manager Micah Berek told the E-Commerce Times. Ironically, the Ecast service is geared toward the same demographic group most likely to dabble in downloading pirated or potentially illegally provided music: 21- to 34-year-olds.
In a home environment, the track that a bar-goer plays once for $1 would be the consumer's for good for the same price. Thus, price alone is not the only factor that consumers consider when making music choices.
The pricing model is up for grabs as content owners place increasing pressure on download services — both legal and illegal ones. In a market where most leverage resides with the content owner — in this case the music companies — it is those companies that will call the shots, said Enderle.
Geopolitical Consequences?
Those companies are flexing their muscles not just in the marketplace but also in the geopolitical realm. The Kvasov case has been viewed as a sticking point in Russia's ambition to join the World Trade Organization (WTO), according to reports. At issue is the fact that protection of intellectual property in a global context is a primary goal of the WTO.
Thus, the unfolding of the remainder of the legal battle over the AllofMP3.com site may determine Russia's future as part of the rapidly globalizing economy. For a country seeking to turn around a long-struggling economy, the stakes are high.