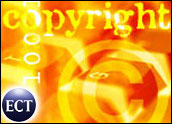 A tech association representing such industry stalwarts as Google and Microsoft is taking aim at what it sees as a stealth campaign to intimidate consumers from exercising their fair use rights with respect to copyrighted material.
TheComputer & Communications Industry Association has filed a complaint with the Federal Trade Commission stating that such organizations as Major League Baseball, the National Football League and NBC/Universal, to name just a few, have been misleading consumers for years about their rights under the fair use doctrine in copyright law.
"Every time an American consumer opens a book, plays a DVD or watches a wide range of broadcast programs, he or she is confronted by strong language warning of what they are not allowed to do with that product," the executive summary of the complaint reads.
"By design or effect, many of these warnings are misleading and harmful to millions of American consumers, customers and businesses," it continues. In fact, these statements grossly misrepresent federal law, which allows use of this material in certain circumstances, the CCIA contends.
A Bad Call
"Copyright law is fairly straightforward," Brian Banner of Rothwell, Figg, Ernst & Manbeck told the E-Commerce Times. "You cannot use it without express permission."
That is only three-fourths of the story, though, he said. "There are certain circumstances when you can use it, such as for a critique."
For example, let's say you feel a particular umpire's calls are routinely wrong — or, at least, unfair to your particular team. You make a videotape of questionable calls, complete with commentary on why the umpire is wrong. You then post the video to YouTube.com, and you e-mail it to Commissioner of Baseball Bud Selig.
Is what you just did illegal? Major League Baseball might say yes, according to the CCIA. In its complaint, it noted that throughout a baseball game, viewers repeatedly hear and see the following:
"This copyrighted telecast is presented by authority of the Office of the Commissioner of Baseball. It may not be reproduced or retransmitted in any form, and the accounts and descriptions of this game may not be disseminated, without express written consent." The voice-over is often accompanied by animated graphics, as well as the official Major League Baseball logo or team logos.
This warning materially misrepresents federal law, CCIA maintains.
"Uses of copyrighted works unauthorized by the copyright holder are not only permitted by federal law," reads the complaint, "they are actively encouraged by it. Section 107 of the Copyright Act, for example, encourages the unauthorized use of copyrighted works for various purposes, including criticism, commentary and news reporting. Under some circumstances, fair use permits the reproduction of an entire work by consumers."
Further, it goes on to say, MLB's claim that news accounts or "descriptions" of the game cannot be "disseminated" is, no pun intended, completely off base. "No author may copyright facts or ideas. Copyright serves to promote the dissemination of information by ensuring that every idea, theory and fact in a copyrighted work becomes instantly available for public exploitation at the moment of publication.
"Yet the leagues purport to prohibit every unauthorized post-game water cooler conversation, notwithstanding that a sports league is constitutionally barred from obtaining any copyright over the facts of the games that it produces," the CCIA argues.
The Water Cooler Police?
Is MLB really pursuing that tack, though? If there is any case of a copyright holder prosecuting a consumer for such a violation, it's not on the radar of attorneys contacted for this article.
"I haven't heard of any," Natalie Hanlon-Leh, a partner with Faegre & Benson, told the E-Commerce Times. "I am not sure why they are bringing this up with their complaint. Fair use has always been out there, and I think it is important for copyright owners to inform people about the law."
The CCIA wants to force these organizations to give consumers the full story — that is, to acknowledge their rights under fair use, commented David Radack, a partner with Eckert Seamans.
"They want the notices to include full disclosure about fair use," he told the E-Commerce Times. As part of its filing with the FTC, in fact, the CCIA has asked for education initiatives to accomplish that.
Copyright law is becoming ever more complex, as technology evolution continues it rapid pace. It was not so long ago that courts were questioning whether music trading on Napster was legal.
Recently asked by a client to determine whether showing a film to an internal business audience fell under fair use, Hanlon-Leh concluded that it did not. The client sought and received permission from the owner to display it.
Such ambiguities might be one factor underlying the complaint, suggested Todd W. Bonder, a partner with Rosenfeld, Meyer & Susman.
"Some of these organizations like Google or Microsoft are launching their own social networking or peer-to-peer sites," he pointed out. Google also owns YouTube.com, which has been the target of more than one copyright infringement lawsuit.
It may be that these companies would like a brighter line demarcating what is permissible, Bonder speculated.
Of course, if the FTC sides with the copyright holders, that could backfire.
"Whether something is fair use or not is in many cases nearly impossible to tell in advance," Marc Jacobson, entertainment attorney at Greenberg Traurig, told the E-Commerce Times. "Further, under the U.S. Supreme Court decision in Grokster, if the CCIA becomes too aggressive in suggesting that copyrighted works may be used and transferred with impunity, then they may be liable under that case for inducing copyright infringement."