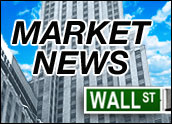 In what has been a rare occurrence this year, technology stocks outshone their counterparts as some good earnings news from the sector helped power the Nasdaq higher.
A better-than-expected earnings report from National Semiconductor and an upbeat forecast from Nokia that said cell phone sales were strong drew investors to tech stocks and helped drive much of the sector higher.
Hewlett-Packard and Intel were among the day's biggest gainers, up more than 2 percent each.
At the close, the Nasdaq was up 19 points to 1,869.65. The S&P 500 also was higher, rising 2 points to 1,118.38. The Dow finished in negative territory, however, falling 24.26 points to 10,289.10.
Weighing on the Dow were stocks such as General Motors, which fell on an analyst downgrade, and Procter & Gamble, which said its current quarter was shaping up in line with expectations.
Claims Drop, Charley Cited
First-time jobless claims fell sharply last week, providing fuel for those who want to see the U.S. economy in an optimistic light.
Claims for state unemployment benefits dropped 44,000 to 319,000, the Labor Department said Thursday in a report that contained better-than-expected numbers and represented the largest weekly drop in claims in almost three years.
The numbers were somewhat skewed by Hurricane Charley, however, which pushed claims higher the week before, the Labor Department said.
Oil Bounces Back on Supply News
Oil prices rose for the first time in nearly a week of trading after the U.S. Energy Department announced that inventories fell more than expected.
Inventories reached their lowest levels since March, the report said, and refinery activity also was up, which indicated healthy demand for oil end products.
Crude oil futures shot up nearly 4 percent on the news, gaining $1.84 to close at $44.61 per barrel.
Oil's role in the overall economic picture is fiercely debated, but in a speech Thursday, Atlanta Federal Reserve Bank President Jack Guynn said volatile prices and the impact they have on consumer and corporate behavior make oil "a wild card in the economy."