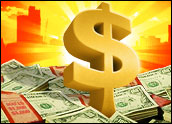 A new business advocacy group has launched in New Orleans — a city that three years out from Hurricane Katrina is still trying to entice all of its former residents to move back home. Called "504ward," a play on the New Orleans' area code of 504, the group's main goal is to help the city attract and retain a key worker and consumer constituency: the 21-to-35 year old age group.
Toward that end, it is kicking off its operations with a US$100,000 contest for entrepreneurs to submit the best business idea for retaining this demographic. The cash prize is being supplemented with $100,000 worth of business services provided by the local business community. A team of Google employees helped the organization launch the contest.
A tech-oriented idea is one obvious suggestion, Jessica White, editor-in-chief of 504forward, told the E-Commerce Times. "Clearly, technology and Web 2.0 developments are a big attractant for this group."
Ideas could be anything ranging from a Craigslist-type local Web site to an online dating service or interactive online job board, she said. "That said, we don't want to put too many parameters on the contest. The winning idea really could be anything, from any business sector."
In other words, it could conceivably be a caf or an art gallery, if the bidder is able to back up the idea with a good business plan.
The YouTube Generation
Going by the numbers and larger industry trends, though, more than likely the winning idea will have some tech element to it. "This age range is a blend of two generational subsets — Generation X and Generation Y — also called 'Millenials,' the 'Young and Talented' and other titles," William Fredrick, president of Wadley-Donovan GrowthTech, told the E-Commerce Times. Wadley-Donovan GrowthTech recently completed a study of New Orleans' demographics and the workforce for the city, but its findings haven't been publicly released yet.
"This group is being heavily courted across the country and overseas as a response to looming Boomer retirements, their technical abilities, and their positive impact on economic development," Frederick pointed out. "This demographic tends to be highly mobile, with the most educated portions in high demand across the globe."
Occupational composition of this group differs from city to city, he said, "but the most frequent ones seen are in varying ratios of finance, business, business services, communications, information, media, information technology, education and health services. In New Orleans, social services and nonprofits are the dominant industries employing this demographic, although health services and higher education are also significant employment sectors."
The city also has a creative media industry base that consists of software design, entertainment, film, and related elements, Frederick added.
The types of businesses that would attract and retain this demographic in New Orleans are varied, he continued, but certain themes are predictable. For instance, a downtown environment is the preferred place to live and work.
"Other attractions would include a sense of trendiness or "cool," Fredrick said, as well as affordable housing, good job and career opportunities, very good public transportation systems, a diverse population, an open environment for new and different ideas, a robust telecommunications infrastructure with significant bandwidth, low crime, a variety of entertainment and social venues including out-door recreation, and excellent opportunities to socially network."
Dec. 4 Application Deadline
Could a social networking Web site, for example, be a winner? Perhaps, Fredrick said, if it were properly managed and designed, and stood out enough from the myriad of competing networks found nationally and locally.
"This group is a major user of social media such as Facebook and MySpace," he noted.
A central job Web site also would be a good idea, Fredrick added. "This job Web site would be best if it contained job postings from employers and a capacity to accept resume posting, with sorting and search capabilities."
Initial applications, which must include a three-page business plan, are due Dec. 4.
As the selection process narrows the field, competing bidders will be asked for additional information, including a video.
The winner will be chosen from five finalists in March 2009.