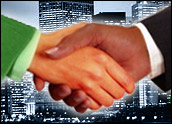 The four-month-long process to find a strategic investor for Satyam –the India-based outsourcer that rattled the global businesscommunity with its ex-chairman's confession in January of longstanding accountingfraud — is apparently over.
Venturbay Consultants, a unit of Tech Mahindra, is acquiring31 percent of Satyam for US$351 million, or 302.76 million Satyamshares. Tech Mahindra is a joint venture between British Telecom andMahindra & Mahindra in India.
Other bidders — which didn't come close to matching Venturbay's offer– included engineering firm Larsen & Toubro andbillionaire investor Wilbur Ross, according to comments SatyamChairman Kiran Karnik made at a press conference.
Venturbay will eventually own a majority stake of Satyam; it must makean offer in the open market for another 20 percent of the company'sstock, thus giving it a total 51 percent of Satyam.
New Face
The move could introduce a new face in the global outsourcingcommunity. Tech Mahindra, which develops software for telecom serviceproviders and equipment makers, is a niche player in the softwareservice outsourcing space. Its major client is its part owner, BritishTelecom.
A partnership deal was a necessity for Satyam to survive, Scott Testa, a professor of marketingat St. Joseph's University, told the E-Commerce Times. "A new partnerwas essential — Satyam needed to bring in new blood to clear the deckand move forward so Satyam could salvage what is left."
The deal will also propel Tech Mahindra into the outsourcingcommunity's upper ranks, Shaalu Mehra, a partner at Perkins Coie andhead of both its outsourcing and India practices, told the E-CommerceTimes.
Satyam has a broad — and well-regarded — line of business practicesthat will be of great benefit to any firm, he said.
Scarred by Scandal
More questionable is whether the scandal has caused irreparable damageto Satyam's reputation.
The accounting scandal and Satyam's subsequent actions have rippled across theFortune 500 community. Given the secrecy that usually shrouds mostoutsourcing contracts, it is difficult to determine with much certaintyall of the companies that were using Satyam for critical IT tasks.Satyam has said that one-third of its clients are Fortune 500 firms — aconstituency whose shareholders tend to focus on suppliers' reputationand honesty.
Mehra maintains that the scandal has not hurt Satyam's long-termprospects. "Satyam has withstood the scandal very well — it hasretained most of its clients." That is because the accounting frauddid not impact the core business operations. "There wasn't anythingfundamentally wrong with the business," he said.
However, the company's future direction had been unclear as itsought a partner. Recently, cash-constrained Satyam had reportedly been forced toask some customers to make early payments.
Confession and Arrests
The cause of the company's troubles, of course, stem from the revelationin January that Satyam Computer Services ex-chairman Ramalinga Rajuhad falsified corporate earnings and assets.
Raju inflated the cash on the company's balance sheet by nearly US$1billion, overstated September, 2008, quarterly revenues by 76 percentand profits by 97 percent, according to a letter Raju sent to Satyam'sboard of directors. Raju, it turned out, had been falsifying profitsfor several years.
The scandal tainted the company's auditor, PriceWaterhouse, which reportedly hadto admit that its audit reports for the last eight years relied onpotentially false data provided by the company and should bedisregarded.
Eventually, three former top executives from Satyam — Raju; his brother B. Rama Raju, who was Satyam's former CEO; and Srinivas Vadlamani, the company's formerCFO — were arrested on charges of conspiracy and forgery in India.