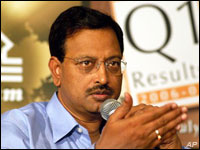 India's IT outsourcing industry received a shock Wednesday with the news that Satyam Computer Services ex-chairman Ramalinga Raju had falsified corporate earnings and assets.
Raju inflated the cash on the company's balance sheet by nearly US$1 billion, overstated September 2008 quarterly revenues by 76 percent and profits by 97 percent, according to a letter Raju sent to Satyam's board of directors. Raju submitted his resignation.
The deception reportedly began with a "marginal gap" between the company's true operating profits and what was recorded in its books. Raju has been falsifying profits for several years.
The company's stock has stopped trading for the day.
Stalwart Company
One of the top five IT outsourcers in India, Satyam was considered a leader in the space. It boasted such clients as Nestle, General Motors and General Electric. Viewing it with 20-20 hindsight, though, there were hints that the firm did not cleave closely to expected behavior.
It was widely reported in October that the World Bank discovered Satyam employees had accessed sensitive information in its database. The World Bank not only declined to renew its contract with Satyam, but also banned the company from participating in its procurement contracts for eight years.
Raju himself displayed erratic behavior last month when he announced plans to acquire two infrastructure companies run by his sons — a deal that would have cost $1.6 billion, according to news accounts. He changed his mind hours later, prompting the company's stock to plunge.
While regulatory authorities dive into what is looking to be a very complex investigation, some are wondering how wide the fallout will be. Namely, will India's vaunted outsourcing industry get a permanent black eye from this episode?
Fraud Feeds on Hardship
Satyam may be an isolated case, but companies typically approach outsourcing with an eye toward ensuring that proper compliance processes are in place, said Tony Viola, VP of marketing Americas with Patni Computer Systems, another leading Indian IT outsourcer.
"In general, it sends a wake-up to all of us in the industry to make sure our houses are in order, corporate governance is in place, and we are meeting the norms of compliance and regulations," he told the E-Commerce Times.
Most companies that use Indian outsourcers will continue to do business with them, in Viola's view, but they will likely put more emphasis on questions about compliance and regulations.
"Outsourcing is a way to lower costs — and in the current economic climate, it will continue to be a factor. But now, instead of just going through the motions of selecting a vendor by deciding to go to the usual list of suspects, clients will be putting more emphasis on due diligence," he predicted.
The Satyam scandal is more indicative of the global economic environment than of widespread shady practices among Indian outsourcers, Christopher Steskal, a securities attorney and chair of the white collar/regulatory group with Fenwick & West, told the E-Commerce Times.
"Every time there is a downturn, we see an uptick in fraud," he noted. "People start asking questions about cash reserves, wondering if they can dip into them to make up a revenue shortfall. Then the fraud becomes untenable."
Right now, the media focus will likely be on Satyam and how this fraud developed in the first place, Steskal speculated. Certain entries on books — such as cash reserves — are something that one expects an auditor to check.
"It does raise the issue of where the auditors were and what kind of job they were doing," he said.