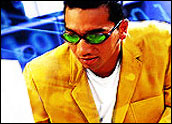 The ability to research products, compare prices and choose from a wide selection of comparable goods are the main reasons behind Internet user decisions to purchase online, according to the results of a survey released Wednesday by Yahoo! (Nasdaq: YHOO) and audience-measurement firm ACNielsen.
By contrast, the study said that reluctance to enter credit-card data into the computer, worries that their personal information will not be kept confidential, customer service issues, and concern about the proper delivery of their purchases, are the main reasons consumers choose instead to purchase in brick-and-mortar stores.
The inaugural Yahoo!/ACNielsen Internet Confidence Index found that 42 percent of U.S. Internet users plan to make an online purchase over the next three months, spending an average of US$184 each, or total of about $9.9 billion.
Convenience Not a Factor
Yahoo! senior marketing director for commerce services Grant Winfrey said that the results "reinforce the importance that consumers place in price comparison tools, selection, and the availability of information when evaluating online purchases."
One surprising finding, Winfrey said, was that "convenience was not a primary motivator to consumers' purchasing patterns online."
Nielsen managing director of international research Travyn Rhall said that the amount of money consumers plan to spend on Internet purchases is impressive.
"Despite industry consolidation and a changing business landscape, the index clearly demonstrates the public's continued confidence in making purchases over the Web," Rhall said.
Younger More Confident
Like other studies of consumer behavior online, the Yahoo!/Nielsen survey found that younger buyers — aged 18 to 24 — tend to have higher confidence in credit-card use and customer service.
By region, Internet users in the Northeast tend to be more confident in e-commerce, the survey found.
People who used the Internet daily were more likely to have confidence in the process, according to the study. Yahoo! and Nielsen found little difference between the attitudes of men and women, though men were slightly more confident in using the Web for purchases.
Fraud Overblown
The latest results echo the findings of a Jupiter Media Metrix study released earlier this month. That study also identified consumers' fear of fraud, and concern about improper use of personal information, as key hurdles for online merchants to overcome.
Jupiter analysts, however, said consumers tend to overestimate the risk of fraud, with media reports leading many to believe that online fraud is more prevalent than statistics show.
The Yahoo!/ACNielsen index is based on random telephone surveys of 1,000 adults who may or may not be using the Internet, the aim being to get the views of the general consumer population. Each quarterly survey will focus on a specific Internet product, service or issue, the companies said.