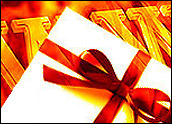 Online retailers are failing to tap into the highly lucrative gift salesmarket by wasting resources on shopping tools and services that are oflittle interest to potential buyers, according to a study releasedMonday by Forrester Research.
As part of its report on "The Hidden Value in Gift Sales," the Cambridge,Massachusetts-based firm concluded that on-time delivery — rather than wishlists or gift-wrapping options — has a greater effect on e-tail successbecause it produces a "positive experience" for the recipient.
As an added benefit for online retailers, the study also found that meetinggift-giving demands helps to set a "gift spiral" in motion, leading toincreased sales and loyalty.
"A satisfied gift giver becomes a repeat customer, the happy recipientbecomes a new customer, and both introduce more consumers to the retailerthat supplied the original gift," said the report.
"Online gift buyers make more money, spend more online, and shop more oftenthan non-gift buyers," said Forrester analyst Carrie A. Johnson. "Online giftbuyers purchase more than just Christmas and Father's Day presents — they continue to buy throughout the year for birthdays and other specialoccasions."
Targeting Efforts
To benefit from the gift spiral, Forrester said retailers must treat onlinegift givers as shoppers who have "unique goals and needs."
Specifically, e-tailers need to promote their on-time delivery records aswell as downplay tools and occasion-themed areas with gift shoppers morethan they would with everyday customers.
"Retailers must use packaging to build awareness," said Johnson, "and an easy process for returns or exchanges to highlight customer service."
Keep on Giving
Another crucial part of the process involves turning gift recipients intonew buyers, which will enable retailers to boost revenue while at the same time lowering costs. According to Forrester, new customer acquisition through the gift-buying process is powered by low-cost viralmarketing.
For instance, Forrester found that one online shopper's small gift purchasecan lead to more than US$2,000 in sales.
"Retailers must recognize that gift giving is a continuous process, not aone-shot event," said Johnson.
Forrester forecast that consumers will spend at least US$36 billion ongifts purchased online by 2005.
Holiday Boom
Recent holidays have proven to be a boon for many online retailers.During the week leading up to Mother's Day, online florists saw theirnumbers skyrocket. According to data from Nielsen//NetRatings, FTD.com saw a290 percent spike in traffic, while 1-800Flowers.com had a 79 percent jumpand ProFlowers.com climbed 73 percent.
Meanwhile, a report from Gartner Group found that the online market forValentine's Day goods and services this year increased by more than 16 million users inNorth America compared to a year ago.
Overall, Gartner said that North Americans spent a total of $2 billion forValentine's Day goods and services online and offline. Gartner attributedthe expected 25 percent increase over last year's sales of $1.5 billion toincreased prices and "a larger and more mature online market."