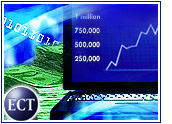 The era of e-business profitability has begun, but the gap between the most and least successful Internet companies is still growing, according to a study released Tuesday by McKinsey & Company.
"Not all dot-coms deserve their current beating from investors," said McKinsey consultant Tilman Kemmler. "Twenty percent of them are making an operating profit."
Kemmler added that a few top e-commerce players are capturing the lion's share of the value being created by Web businesses.
In fact, the E-Performance Scorecard, New York-based McKinsey's periodic survey of the e-commerce landscape, found that the strongest e-tailers are now outperforming their brick-and-mortar competitors in some areas — with higher operating margins, for instance.
However, while the most recent study (covering the last two quarters of 2000 and the first quarter of 2001) showed that e-tailers are improving their performance in several categories, content Web sites are still struggling for traction.
Bricks of Gold
Meanwhile, the study turned up more evidence that the brick-and-click formula is a leading model for Web success.
More than three-fourths of the best-performing e-tailers are online offshoots of traditional retailers, the study said. In making that finding, the study relied on measurements of visitor attraction, customer conversion and retention, and revenue per transaction.
Brick-and-clicks have the benefit of existing brands, marketing arrangements and installed information technology, Kemmler said.
Margins Vary
Overall, clothing Web sites performed best in terms of gaining revenue from customers, with an average 21 percent operating margin, the study found. In fact, clothing sellers were the only e-tail category with an average positive operating margin.
In all other categories, including electronics, books and gifts, the average operating margin fell in the negative range, with only top performers actually making money on every sale.
Please Return
Despite e-commerce success stories it recognized, the McKinsey study still questioned the customer-retention abilities of e-tailers.
Kemmler said that while many Web merchants are doing a better job of attracting potential customers and converting them into buyers through enhanced marketing and site design, the number of customers returning to make subsequent purchases has actually declined in recent quarters.
Overall, revenue per customer and transactions per customer were down for the e-commerce industry as a whole during the end of 2000, compared with the same period a year earlier, McKinsey found.
Slow and Steady
In a separate study also released Tuesday, McKinsey advised e-businesses to proceed with caution, instead of rushing to market. After examining 80 companies, most in the business-to-consumer (B2C) sector, the consultants found that only e-businesses that arrive first in a wide-open market truly benefit from moving fast.
Only 10 percent of all digital businesses actually need to speed their way to market, the study argued.
"For the rest, speed provides no competitive advantage and often results in wasted resources, missed opportunities and flawed strategies," McKinsey analyst Marty Bates wrote.