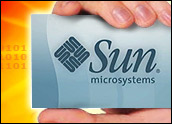 Sun Microsystems has rejected IBM's offer to acquire it for US$7 billion, a move that took the tech industry by surprise and sent Sun stock plummeting.
Speculation is rampant as to why Sun Microsystems spurned the offer — a move critics view as downright foolish in this economy — as well as what the two companies may do next, and who else might have pockets deep enough to take IBM's place at the negotiating table.
The rejection also prompted comparisons to the Microhoo fiasco last summer, when Microsoft attempted to buy Yahoo and was rejected. Yahoo, of course, has survived — but the company was clearly battered by fallout following its rejection of the Microsoft bid.
Sun Microsystems, at least initially, appears to be heading down the same track: Monday morning its stock plunged 25 percent to $6.55 per share.
"I would have though that Sun Microsystems would have learned from Yahoo's mistake not to look a gift horse in the mouth," said N. Venkat Venkatraman, a professor in management, strategy and innovation at Boston University.
"If history is any guide, Sun may very well not get a second chance," he told the E-Commerce Times.
Sun's rejection of the offer was unexpected, he said. "All indications suggested that they both wanted a deal to happen."
Concern over potential antitrust problems seemed to be the only cloud hanging over the deal, Venkatraman added.
Bad Deja Vu
Sun's rejection could trigger additional flashbacks to the Microsoft-Yahoo drama, said Vanessa Alvarez, information, communications and technologies analyst with Frost & Sullivan, with a hostile bid mounted by someone playing the role of Carl Icahn in the Microhoo saga.
"Sun's shareholders are not happy, and it's apparent, given Sun's stock plunging 25 percent," she told the E-Commerce Times.
In this economy, and with Sun shopping itself around this past year, it was crazy to not jump on this, Alvarez said. "The offer was twice its market cap value and would [have positioned Sun] with a market leader."
IBM's Thinking
IBM, of course, had its reasons for making the offer — and there is no certainty that it will walk away now that it has been spurned.
For IBM, the acquisition was about buying market share and aggressively competing against HP, whose acquisition of EDS was a direct jab at IBM's services business, Alvarez continued.
It was also, to some extent, a jab at Cisco, which recently entered the server business and competes with IBM in the unified communications and collaboration space as well, she pointed out.
At bottom, though, "Sun needs IBM more than IBM needs Sun," said Alvarez.
The rejection might have left a bad taste in IBM's mouth, she added. IBM would likely prefer to avoid the antiregulatory issues that come along with this kind of acquisition, and it could be realizing that the deal's not worth it.
"Potential suitors now smell blood with Sun, and know that if IBM isn't going to pay that much for them, neither is anyone else. Cisco, the most likely vendor to approach Sun, is definitely not going to pay more than IBM would."
Other possibilities include HP and Dell, Venkatraman said, as both could benefit from the addition of Sun to their portfolio. "It is clear that Sun is too small to be a dominant force in the transformationsunderway."
Internal Debate?
Complicating matters, is the internal strife that is clearly taking place in the company, Peter Cohan of Peter Cohan & Associates, told the E-Commerce Times.
"I have this feeling there is an internal battle between [cofounder and former CEO Scott] McNealy and [CEO Jonathan] Schwartz about how much the company is worth and whether it should be sold at all, he said.
McNealy may think it is worth more than IBM's offer, Cohan speculated, while Schwartz likely thinks IBM is the best it can do.
"It wouldn't surprise me if Schwartz leaves if this deal doesn't go through, said Cohan. "Ultimately, this is about who is in charge of the company."