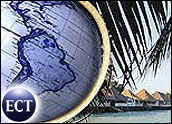 In contrast to e-marketplaces in the U.S., which are largely funded by homegrown investors, most of the funding for Latin American business-to-business (B2B) marketplaces is coming from international sources, according to a new report from Jupiter Research.
"The reluctance of regional players to enter the space typifies the slow rate of entry for Latin consortium-run marketplaces," Jupiter said.
In addition to overcoming the region's uncertain economic outlook, B2B marketplaces in Latin America face several other unique challenges.
Latin America's reliance on cash and the difficulty of verifying credit are major barriers for growth, according to Jupiter. Some companies are relying on what Jupiter termed "escrow-like" solutions to overcome these obstacles.
Fundamental Dilemmas
Other problems facing Latin American e-marketplaces include a low penetration of technology, infrastructure problems, and the difficulty of building brand awareness in the fragmented Latin American B2B market, Jupiter found.
Would-be B2B players are also handicapped by red tape in countries and municipalities where the decision-making process is often "fragmented and decentralized," according to the study. For example, Jupiter said that to export goods from Brazil, a company would need to acquire an export license, a bill of lading, and certificate of classification for export tax purposes.
Overcoming Barriers
The other major difference between the regions, according to Jupiter, is that Latin American B2B firms are "actively pursuing" the creation of constellations of e-marketplaces — spinoff divisions from a core offering — in a variety of industries.
Despite the potential benefits, Jupiter noted that the constellation concept has not been successful for the handful of U.S. companies that have tried it.
"Major corporate online strategies have just developed differently in the U.S. and Latin America," Jupiter B2B research associate Jonathon Gibs told the E-Commerce Times.
Independents Strong
"What we've observed is that the primary growth in Net markets in Latin America has been fueled by either major conglomerates building out an online channel or … strategic investments from abroad," Gibs said. "In both of these cases, they have observed growth elsewhere and realize that multiple initiatives, which are dedicated to specific needs in vertical, is preferable to a more general approach."
Although independent e-marketplaces and those spun-off from major corporations are currently growing faster than industry-sponsored marketplaces (ISMs), Jupiter predicted that independents that do not partner with existing North American ISMs or other global partners will eventually be acquired, or "simply run out of cash and fail."
Gibs predicted that the shakeout would start this summer, as ISMs begin to spread south.
Surge Expected
Despite the barriers to doing e-business in Latin America, there remain encouraging signs that e-commerce is taking hold in the region. A report issued last month by eMarketer said that e-commerce in Latin America would grow from US$3.6 billion in 2000 to $66.5 billion in 2004.
eMarketer also found that, as in the rest of the world, B2B spending is outpacing the amount spent by consumers online.
In 2000, B2B spending in Latin America was $2.85 billion, or 79.6 percent of the total. By 2004, eMarketer estimates that B2B spending will reach $58.4 billion, or 87.8 percent of the $66.5 billion in total e-spending.