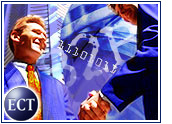 Few U.S. companies currently use the Internet to purchase supplies, although most executives see the Web as an important part of their business in the future, according to a study released Monday by a trade organization.
Most companies are "still in the early stages of Internet adoption," said the National Association of Purchasing Management (NAPM), which conducted the study with Forrester Research.
"There's a significant incoming wave of online B2B [business-to-business] activities," said BruceD. Temkin, group director at Forrester.
According to the study, almost half of the corporatepurchasers surveyed said they are "in the earliest stage of adopting the Net," while an overwhelming number of them "see the Net as an important part of their plans."
More than 15 percent of the executives participating in the study said they did some purchasing through online auctions, with manufacturers using Internet auctions more than twice as often as non-manufacturing companies.
Driving Forces
"While organizations aren't yet buying a large portion of their goods online,there's significant momentum to use the Net for things like identifying new suppliers and collaborating with suppliers," Temkin said.
Suppliers, however, "have a lot of work to do" if they want to transact business on the Web, said Temkin, adding that "for every purchaser that was pleasedwith the online capabilities of their suppliers, four others felt that theseofferings weren't very good."
Purchasers responding to the survey cited "problems with implementation" and"resistance to change" as the primary reasons for dissatisfaction with online purchasing. Funding issues were also a problem, the report found.
Boom Expected
Despite a current economic slowdown, analysts are predicting a boom in business-to-business(B2B) e-commerce.
For example, Forrester recently issued a report predicting that Canadian businesseswill account for US$182 billion in online B2B transactions by 2005.
Jupiter Communications, meanwhile, also predicts businesses will boost spending on B2B in the next few years, with worldwide spending one-marketplaces reaching $137.2 billion by 2005. Spending by North Americancompanies will grow from $2.1 billion in 2005 to $80.9 billion in 2005, Jupiter said.
About the Study
NAPM and Forrester said their new report is thefirst in a series that will track e-business and manufacturing trends.
The report was based on survey responses received from 368 purchasingexecutives working for manufacturing and non-manufacturing companies with amedian purchasing volume of $75 million.