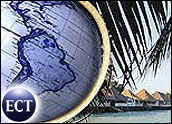 Driven largely by business-to-business (B2B) transactions, e-commerce in Latin America is set to grow from US$3.6 billion in 2000 to $66.5 billion in 2004, according to a report released Thursday by eMarketer.
The largest gain is expected to come in Mexico, with e-spending in the country expected to grow from $55 million in 2000 to $13.3 billion in 2004.
Nonetheless, the "eLatin America Report" found that Latin American e-commerce accounted for just 1.3 percent of the $285.88 billion that was spent online worldwide in 2000. Only the Middle East and Africa garnered a smaller piece of the global pie, accounting for just 0.7 percent of Internet spending.
Predictably, North America remains the king of the e-commerce mountain, spending $206.73 billion, or 72.3 percent of the total.
Leading the pack within Latin America is Brazil, which accounted for $2.47 billion, or almost 70 percent, of the region's total e-spending in 2000.
Brazil Well Positioned
Calling Brazil the "powerhouse for all things Internet in Latin America," eMarketer said the country is well positioned to take advantage of both B2B and business-to-consumer (B2C) e-commerce because of its advanced industrial sector and a large and fairly cohesive consumer market.
Meanwhile, other Latin American countries are likely to see impressive e-commerce growth in the next few years, according to eMarketer. By 2004, the report notes,Brazil's share of the e-commerce pie will shrink to just 60 percent as e-commerce increases in the rest of the region.
"Brazil is by far the leading market for Internet commerce in both the B2B and B2C segments," said Noah Elkin, Ph.D. and senior analyst at eMarketer. "All countries, however, will see impressive growth in e-commerce revenues over the next few years, although the B2B sector will grow most quickly."
B2B Rules
As in the rest of the world, B2B spending far outpaces the amount spent by consumers online. In 2000, B2B spending in Latin America was $2.85 billion, or 79.6 percent of the total. By 2004, eMarketer estimates that B2B spending will reach $58.39 billion, or 87.8 percent of the $66.5 billion in total e-spending.
By comparison, B2C spending will grow from $73 million in 2000 to $8.11 billion in 2004.
Hurdles in the way of Latin American businesses reaping the full benefits of B2B e-commerce, according to eMarketer, include limited investments in online sales technology and software by companies in the region, lack of economic integration within the region, and complicated customs procedures.
Key B2C Barriers
When it comes to B2C,low rates of Internet penetration, limited PC ownership, and a low level of credit card usage are contributing to keepLatin American consumers from spending online. For the region as a whole, the Internet penetration rate is only 2.7 percent; by comparison the U.S. penetration rate is 39.8 percent.
eMarketer also found that three countries — Brazil, Mexico and Argentina — account for approximately 65 percent of the region's 9.9 million Internet users, with Brazil's 3.9 million Internet users representing 40 percent of the total.
The percentage of households with a personal computer in the region is also small, ranging from a low of 3 percent in Peru to a high of 10 percent in Argentina. By comparison, more than half of U.S. homes have at least onePC.