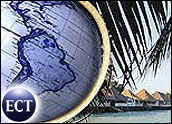 E-commerce in Latin America is expected to rocket to $580 million (US$) in sales by the end of 2000, according to a report released Friday by the Boston Consulting Group (BCG).
Yet the report, which was sponsored by Visa International, found that the growth of e-commerce in Latin America has come at a price for online retailers. With sales increasing more than 400 percent over the course of a year, online retailers are struggling to upgrade their infrastructure in order to support increasing demand.
"In Latin America, pure play and bricks-and-mortar retailers alike are having to compress this process into the space of one to two years," said BCG Vice President Thomas Wenrich.
Wenrich added, "Not only do online retailers need to iron out some of their operational difficulties, they also have to develop business models suited to the unique challenges and characteristics of the Latin American market."
Brazil on Top
According to the report, Brazil continues to be the largest online market in Latin America, accounting for $300 million in revenues and just over half of the entire e-commerce market in the region. The Mexican and Argentinean markets, however, have grown out of their nascent stages and are expected to generate $91 million and $82 million in sales this year, respectively.
Consumer-to-consumer auctions are the largest category in the Latin American market. According to BCG, the region's auction market is likely to reach $192 million in sales by the end of the year.
The success of the auction space can be attributed, in part, to the fact that the Web auctioneers do not need an elaborate delivery and payment infrastructure, the report states.
The second largest category in Latin American e-commerce is computer hardware and software at $72 million, followed by financial services at $61.5 million.
U.S. E-tailers Falter in Region
U.S.-based online retailers will need to improve their product selection, customer service capabilities and on-time delivery performance if they are to succeed in Latin America, the report also notes.
The market share of U.S. English-language players in Latin America is expected to sink from 32 percent in 1999 to a mere 7 percent in 2000.
"Latin America is still a relatively small market and not yet a priority for most U.S.-based retailers," Wenrich told the E-Commerce Times. "The difficulty around fulfillment is you have to do it on a country-by-country basis. What you have to do to serve Mexico is different from what you have to do to serve Argentina. Working with agencies to get things through customs in a timely fashion generally requires local expertise."
Moving Forward
Because the costs of building an online brand in Latin America are prohibitive, the number of retailers who can afford to take on that task is limited. In addition, pan-regional plays are proving difficult to implement because each country has its own independent system of tariffs.
According to the BCG report, the future Latin American market will be characterized by a small number of dominant players using a variety of channels to reach middle- and upper-class consumers. The firm also said that it expects these players will be much more focused on serving individual country markets than delivering products and services across the entire region.
"There's still a large window of opportunity here," Wenrich said.