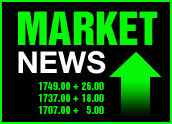 Stocks posted measured gains today to close out the week on Wall Street, after a strong retail sales report and reassuring comments from Federal Reserve Chairman Alan Greenspan about the impact of oil prices on the U.S. economy.
The Dow gained 38.93 points, or 0.39 percent, to finish the week at 9,933.38. The Nasdaq climbed 8.48 points, or 0.45 percent, to 1,911.50 and the S&P 500 rose 4.91 to 1,108.20, also a gain of 0.45 percent.
Oil Prices
The gains were not enough to salvage the week, however, with all major indices losing ground over the five days, losses largely attributed to oil price volatility.
The Dow dropped 1.23 percent for the week, the Nasdaq was off 0.44 percent and the S&P gave up 1.25 percent.
Stocks moved higher right out of the gate today after the Commerce Department reported that retail sales rose 1.5 percent in September, well ahead of forecasts and the largest one-month gain since the spring. A surge in auto sales helped drive the figure higher, the agency said.
Further good news for those hoping to keep inflation at bay came from the Labor Department, which reported that the Producer Price Index, the measure of inflation at the wholesale level, rose just 0.1 percent last month. A report on industrial production was less bullish, however, showing just a 0.1 percent increase in output from U.S. factories last month.
Greenspan Soothes
The impact of the oil price surge might have been muted by Greenspan's speech to the National Italian American Foundation. The Fed chairman said oil price volatility is something "we and the rest of the world doubtless will have to live with … for some time to come."
However, Greenspan also said the situation likely will not come close to the energy crisis of the 1970s and early 1980s, when oil shortages and sharp price spikes helped push the country into a series of recessions. He also noted that when adjusted for inflation, today's seemingly record highs are well below those earlier price peaks.