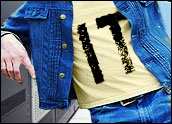 Salaries of information technology workers will climb as much as 15 percent in the next three years, significantly driving up the cost of managing IT infrastructure for large enterprises, according to a report.
The Stamford, Connecticut-based Meta Group said in its annual IT Staffing and Compensation Guide that salaries are set to rise between 10 and 15 percent through 2007 and by then will make up more than half of many IT departmental budgets.
The report suggests that as salaries rise, mobility among IT workers will as well, making the task of keeping top workers an increasingly difficult challenge for enterprises.
Workers with skills in application development are considered the most difficult to retain long-term, along with those with networking expertise and those who specialize in information security.
Maria Schafer, senior program director with Meta Group's Executive Directions service and the report's lead author, said IT workers might be more likely to leap at new job opportunities because of the long period of tough times for the industry.
Bonus Round
"As the economy heats up, so does the desire and incentive to seek higher-paying work and greater development opportunities," Schafer said. "This is particularly true of an industry such as IT, which has had one of its longest periods of job and salary stagnation."
Complicating matters further, Schafer said, is the fact that IT departments typically have lagged other corporate divisions when it comes to working to retain employees.
"CIOs must begin to work more closely with human resource professionals to implement strategies that address human capital management trends and innovative retention programs — an area in which IT has historically been reactive rather than proactive."
Schafer recommended that companies use "a variety of tools" to keep workers happy, such as offering flexible work hours and bonuses or other incentive programs. Those that don't could face "a real workforce crisis in the months to come," she added.
Outsourcing Impact Muted
The salary increases for U.S. IT workers seems to downplay the impact of outsourcing and offshoring of such jobs, which has been a major concern and has prompted some to suggest a national union of tech workers be formed to fight for such workers' rights.
But the Department of Labor recently reported that the vast majority of jobs lost to outsourcing across all fields stay within the country, with only a fraction actually farmed out to overseas workers.
Harris Miller, the president of the Information Technology Association of America (ITAA), said his group has insisted throughout the offshoring and outsourcing controversy, that the IT jobs marketplace was poised for a strong recovery.
"We've been seeing more confidence among enterprises and a continued desire to use technology to make companies more effective, more efficient and more competitive," Miller said. "Companies that understand the value of what smart use of technology brings them are not afraid to pay to staff their IT departments with the best talent available."
Noting that university computer science departments around the country have reported dropping enrollments since the dot-com bubble burst, Miller said rising salaries further emphasize the need to maintain a solid supply of well-educated U.S. tech workers.