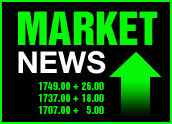 Stronger than expected retail sales data for November and the latest bout of merger fever helped push stocks to strong gains across-the-board today.
The Dow was up 95.10 points, or 0.90 percent, to 10,638.32. The Nasdaq moved higher by 20.43 points, or 0.96 percent. The S&P 500 finished up 10.68 points, or 0.90 percent, at 1,198.68.
Investors cheered data from the Commerce Department showing a one-tenth of a percent gain in retail sales in November. That rise came despite a drop in automobile sales and was ahead of expectations that sales would be stagnant when compared to last year.
Mergers, Oil
The same report also contained an upward revision of the October sales figures to a gain of 0.8 percent, up from 0.2 percent.
Adding to the upward surge was another round of merger-and-acquisition news, led by the capitulation of PeopleSoft after 18 months to Oracle's US$10.3 billion takeover bid. Both companies saw their stock rise 10 percent on the session.
Separately, Honeywell International said it would buy UK-based Novar for $2.4 billion, while no news was forthcoming on the rumored marriage of Sprint and Nextel, which could be worth more than $35 billion if it takes place.
Oil prices gained back some of their recent losses, but still remained largely in check. Crude futures traded higher by 30 cents on the New York Mercantile Exchange at $41.01 per barrel, still some $15 below levels reached in October. Traders cited midrange forecasts showing colder weather blanketing much of the U.S., which will drive demand for heating fuels higher.
Dollar Down
The dollar also lost some of its recent progress against foreign currencies, losing 0.6 percent against the euro and 0.4 percent against the yen.
Tomorrow, attention will turn to the Federal Reserve, which is widely expected to raise key interest rates another quarter-point, marking the fifth such increase since the beginning of the year. Recent data showing hints of inflation made that increase all but guaranteed, analysts say, and might have paved the way for a sixth such move early in 2005.