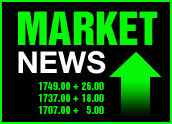 Optimism created by a strong earnings report from Intel was enough to overcome word that the trade deficit has hit record high levels and to send stocks to a positive finish today.
Stocks fell early in the session after the Commerce Department said the trade gap swelled to US$60.3 billion in November, the highest level ever, fueled by American buying of foreign oil and other goods.
Intel Beat Forecasts
By the end of the session, however, stocks had rebounded. The Dow closed up 61.56 points, or 0.58 percent, to 10,617.78. The Nasdaq also was up, rising 12.91, or 0.62 percent, to 2,092.53. The S&P 500 rose 4.71 points, or 0.40 percent, to 1,187.70.
Intel was cited as a major factor in the run-up. The tech bellwether beat revenue forecasts and met profit expectations, and investors hoped it would set the tone for the rest of the earnings season. Intel shares were up nearly 3 percent on the report and an ensuing analyst upgrade.
After the markets closed, Apple turned in results that seemed capable of feeding optimism about the tech sector. Apple said profit for its first quarter was up five-fold over last year on the strength of sales of iPods and the PowerBooks. Profit was 70 cents a share, well outpacing both Apple's forecast of 39 cents and analysts' consensus forecasts of closer to 50 cents. Apple shares were soaring higher in after-hours trading.
Deficit Effect
However, there were other signs that earnings season would be a mixed bag. For instance, United Parcel Service shares fell 7.5 percent in regular trading today after it warned of a profit miss for the fourth quarter.
The trade deficit figures also hurt the dollar, sending it lower by 1.2 percent against the euro and a full percentage point against the Japanese yen.
Meanwhile, oil continued to inch steadily higher, tacking on another 71 cents to US$46.30 a barrel on the New York Mercantile Exchange.