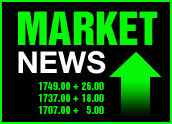 Amid a flurry of business headlines, stocks posted modest gains today after the largest member of the OPEC oil cartel said the group should consider boosting output in order to keep prices at reasonable levels.
Oil prices, which hovered near record levels last week, have been a drag on financial markets in recent weeks, in some cases hurting both stocks and bonds as investors worry that fuel costs would eventually lead to general price inflation.
EO Appointments, Mergers
The news from OPEC and a slew of business news ranging from CEO appointments to mergers, helped lift the Dow by 30.15 points, or 0.28 percent, to 10,804.51. The Nasdaq gained 9.44 points, or 0.46 percent, to 2,051.04 and the S&P 500 rose 6.75 points, or 0.56 percent, to 1,206.83.
The statement by the Saudis on oil did not immediately help prices on the futures markets. In New York trading, oil futures gained 52 cents to US$54.95 per barrel.
Instead, what drove stock markets were at least two major mergers. IBM said it would pay $1.1 billion for Ascential Software in a move seen driving IBM's revamped strategy after selling off its PC unit. And Altria Group, the parent company of Philip Morris, offered $5 billion to purchase an Indonesian cigarette producer.
Qwest Bid for MCI
Meanwhile, shares of Qwest Communications were higher after reports appeared that it would sweeten its bid to buy MCI.
On the executive hiring front, word that Walt Disney Co. would tap President Robert Iger as its new CEO — a job for which eBay CEO Meg Whitman reportedly took herself out of the running — boosted stocks, as did news that embattled insurer American International Group would get a new CEO.