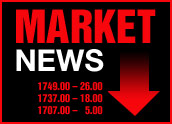 Stocks lost more ground today, as oil prices and inflation worries overshadowed a report from the Federal Reserve showing many signs of steady economic growth.
The Dow tumbled 107 points, or 0.98 percent, to close at 10,805.62. The Nasdaq was also down, losing 12.26 points, or 0.59 percent, to finish at 2,061.29. And the S&P 500 index fell 12.42 points, or 1.02 percent, to 1,207.01.
Oil Up
The drop came as oil futures soared to within two pennies of an all-time high before giving up some gains late in the trading session. Futures closed up 18 cents to US$54.77 per barrel on the New York Mercantile Exchange.
The weekly report on supplies in the U.S. from the Energy Department showed a better-than-expected rise in crude inventories, but declines in supplies of gasoline and heating oil.
In its roundup of regional activity, the Fed noted that consumer spending, employment and factory output were all up in February in most parts of the U.S.
The report will be among the factors the Fed considers in its interest rate decision when it meets later this month. Most economists expect a seventh quarter-point increase in rates at that meeting and some say there is a chance the Fed will also issue a statement expressing more concern about inflation.
Inflationary Pressures
Some investors worry that rising rates will be deemed necessary in part because of the inflationary pressures caused by soaring oil and gasoline prices, which eventually cause price hikes in many consumer goods. That could lead to lower corporate profits, which have been the major reason for recent stock market gains.
Meanwhile, bond yields rose to their highest levels since last August, driving prices lower as investors bet on persistently higher interest rates. The dollar, meanwhile, continued to struggle, falling against the yen and euro.