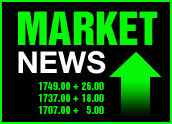 The latest round of mega-mergers fed buying on Wall Street today, driving stocks higher to close out what was otherwise a month many investors would just as soon forget.
Markets were moderately higher for the session on recent M&A activity. Also, some good economic data on personal incomes was able to offset a late surge in oil prices.
For the session, the Dow was up 62.74 points, or 0.60 percent, to 10,489.94. The Nasdaq rose 26.58 points, or 1.31 percent, to 2,062.41. The S&P 500 finished the day and the month at 1,181.27, a gain of 9.91 points, or 0.85 percent, on the session.
Down for Month
The strong session wasn't enough to salvage the month, which saw sharp sell-offs coming out of a year-end rally. For January, the Dow was off 2.7 percent, the Nasdaq fell more than 5 percent and the S&P 500 was lower by 2.5 percent.
Another round of major merger activity fueled today's buying, led by SBC Communications' US$16 billion buyout of former parent company AT&T and the acquisition by MetLife of Travelers Life & Annuity Co. from Citigroup for around $11.5 billion.
Although the news out of Iraq seemed largely upbeat in the wake of the first open democratic elections there yesterday, oil investors drove up futures prices in late-session buying.
Crude futures rose $1.02 to $48.20 on the day in New York trading after tumbling below $46 early in the session on the Iraq news and word that OPEC would not authorize additional output cuts just yet.
Personal Income Up
On the economic front, the Commerce Department said personal incomes soared a record 3.7 percent in December. The increase was attributed in part to the decision by Microsoft to pay out some $32 billion in one-time dividends.
Consumers also spent more, with spending up 0.8 percent for the month.
The closely watched Chicago Purchasing Managers index was also higher, rising to 62.4 percent this month and well outpacing forecasts. It marked the 21st straight month that the index indicated expansion in the Midwest manufacturing economy.
With the books set to close on January, investors were prepping to digest a range of additional economic data due out this week, culminating with the January job numbers on Friday.