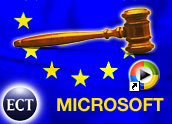 Microsoft and representatives of the European Union (EU) are locked in discussions over exactly how a stripped-down version of Windows that has the controversial Media Player removed will be marketed in Europe.
Microsoft previously said it would comply with a ruling that it offer a version of Windows that does not contain the Media Player software, a move aimed at giving competitors, including Real Player, a chance to gain market share.
However, staff at the European Commission, which administers the EU, said it is concerned that Microsoft will essentially undermine the effort by billing the new version of the operating system as "Windows Reduced Media Edition."
Sharing Code
In addition to a fine of nearly US$600 million, the penalties handed down in March 2004 included sharing code with server software makers and releasing a version of Windows that unbundled the Media Player functionality. Microsoft still has an appeal pending of the overall EU ruling against it, which could take years to play out in court.
However, the software giant said last week that it would immediately begin to work on complying with the various sanctions levied against it after it was found to have behaved in a monopolistic way in Europe rather than appeal the latest ruling against it. That latest ruling came in December, when Microsoft failed to win a bid to have sanctions stayed pending its appeal.
The Media Player-less version of Windows has likely been in the works for some time, analysts noted, and Microsoft has also begun to field inquiries from European server makers about possibly licensing Windows source code.
What's in a Name?
A Microsoft spokesman said only that talks were ongoing with the European Commission staff.
The Commission has said it wants to ensure that consumers are not scared away from buying the new version of Windows or from buying new personal computers that come loaded with it from the factory.
However, analysts are saying it might not matter, as PC makers are under no obligation to offer the alternate version. Some PC makers might fear that consumers will flood their customer service lines with calls if they're unable to open music or video files as well.
Also, consumers might have little motivation to buy the new version since it will sell for the same price as the fully loaded Windows.
The commission might be wrestling with how to make the software they've ordered to be built as palatable as possible to consumers, Forrester Research analyst Paul Jackson told the E-Commerce Times.
"The ruling has always represented, at best, an annoyance to Microsoft, not a genuine barrier," Jackson said. Even if consumers could be convinced to buy the stripped-down Windows, he added, many content providers in Europe already use the Media Player platform, making it likely consumers will seek out downloads on their own.
Step by Step
While the European Commission has expressed concern that Microsoft is dragging its feet on compliance — there were no specific deadlines in the original ruling, only the requirement that Microsoft take action immediately — Microsoft has plenty of reason for moving slowly.
The source code requirement, for instance, represents a risk, particularly if Microsoft still feels it can overturn even parts of the original antitrust ruling in Europe.
"Their argument has been once they share it, it's out there for good, so they want to take it slow," Yankee Group analyst Laura DiDio told the E-Commerce Times.
Some have already speculated that Microsoft would begin negotiations with server makers with licensing terms that made it unlikely most companies would reach a deal to see the code. Given that it has already paid the fine and is now poised to comply with the Media Player requirement, if it can meet with server sanctions on its own terms, Microsoft might be able to avoid a lengthy court battle on the overall appeal.