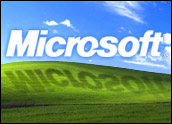 Casting some doubt on a theory that its best growth days are behind it, Microsoft posted record revenue for its second quarter, saying sales were strong across its various businesses and predicting that trend will continue.
Microsoft said earnings for the quarter more than doubled to US$3.46 billion as revenue rose 7 percent over last year levels to $10.82 billion.
Like other international companies, including IBM, Microsoft's numbers benefited from fluctuations in currency values. The sales growth is slower than in past years — for instance, in the first quarter last year, revenue rose 19 percent.
Powerful Reach
Still, analysts said the quarter demonstrated the continuing strength of Microsoft's powerful reach into consumer and business sectors. For instance, sales in the server and tools business grew 18 percent, driven by demand for SQL server products. At the same time, the software giant's long-suffering home entertainment unit turned in its first profit, as Halo 2 and other games for its Xbox console boosted performance.
Outgoing Chief Financial Officer John Connors termed the quarter more of the same from Microsoft, calling it "yet another excellent quarter with very strong fundamentals."
The growth is eye-opening, since the past year brought declarations from some quarters that Microsoft had evolved from a growth company to a profit-generating one after it announced plans to give billions back to shareholders through dividends and as it faced its most serious competitive threats to date. That still might prove true, but for now, Microsoft remains a force, even with relatively flat sales of Windows and other flagship products.
"If Microsoft can excite buyers about the next version of Windows in the next year or two, and they're doing everything they can to build that demand, that could greatly improve their long-term outlook," Forrester Research analyst Paul Jackson told the E-Commerce Times.
In fact, analysts noted that Microsoft has managed to keep improving results despite not releasing a new version of Windows in some time.
Rising Tide or Big Boat?
Less clear is whether the Microsoft results, and its boosted third-quarter outlook, mean happy days are ahead for the tech industry in general.
While there have been some strong earnings reports from Intel, IBM and others, most forecasts have been at least mixed. Notable exceptions include the outlook from Oracle, which predicted that it would grow earnings in each of the next two years, and Apple, which had a record-breaking first quarter and set sales targets for the current quarter that were comfortably ahead of Wall Street's outlook.
EMC also had a strong outlook, but other companies have hedged their bets with middle-of-the-road forecasts. That has led analysts to speculate that companies with the most exposure to the largest enterprises — IBM, Microsoft, EMC and Oracle all fit the bill –are poised to have the best year.
Any growth stands in contrast to the steep drop in demand seen in recent years in the tech sector. However, technology companies that survived the dot-com bust are still straining to show sales growth that justifies expensive stock prices.
What Competition?
The quarter showed little or no signs of any competitive erosion of Microsoft's might, either from alternative browsers that are slowly gaining market share in the face of Internet Explorer's repeated security issues, or open-source Linux' rise as an alternative to proprietary systems such as Windows.
Neither did it show any ill-effects from the public demise of its Passport system for portable online log-ins. EBay recently dropped the system and shortly afterwards, Microsoft acknowledged it would stop marketing the program to merchants.
Whether those issues will be long-term problems for Microsoft remains to be seen. Meanwhile, there is potential upside from other sources, including a music download site still in development, and an enhanced search tool that is in beta form.
Given Microsoft's long-range vision of the marketplace on the consumer side, the profits in the entertainment unit are a significant boost for the software maker, Yankee Group analyst Laura DiDio told the E-Commerce Times.
"Microsoft wants to be in the middle of the living room of the future," DiDio said. "This can be viewed as a start on that path."